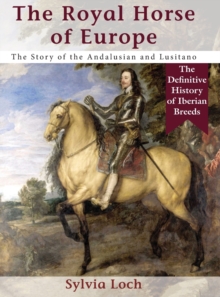 The Royal Horses of Europe (Allen Breed Series)
Hardback
Description
This definitive, illustrated history of the baroque Andalusian and Lusitano horses explores the infamous breeds of Europe's Iberian Peninsula (modern-day Spain and Portugal). Originally kept for use in exploration and war, these steeds became beloved by kings and other royalty and thus helped shape the cultural history of the region. Known by many names over the centuries, these royal beasts influenced the development of many of today's most successful horse breeds.
Still highly prized in the modern era, Andalusian and Lusitano horses are renowned for their terrific temperament, outstanding agility, superb strength, graceful movement, and their spectacular good looks.
Founder of the Lusitano Society of Great Britain, author Sylvia Loch treats readers to "a voyage of exploration taking us back to before the time of the Romans." She traces the origins and charts the lineage of the magnificent Iberian thoroughbred breeds. Sharing glimpses of lavish cultural institutions and colorful characters along the way, Loch offers fascinating information on regional equestrian events, such as the corrida (the mounted bullfight) and the Iberian schools of classical horsemanship. Other topics include the development of cavalry and horsemanship traditions, thoroughbred races, the contributions of these noble stallions to the evolution of dressage, and the influence of the Iberian breeds on the horses of the Americas and The British Isles.
As Loch details the fascinating history of these horses with well-researched, passionate, and easy to enjoy prose, the depth of her love for these royal horses shines through.

Information
Format: Hardback
Pages: 290 pages, 126 Illustrations
Publisher: Echo Point Books & Media
Publication Date: 02/04/2019
Category: Animal breeding
ISBN: 9781635617054
Free Home Delivery
on all orders
Pick up orders
from local bookshops