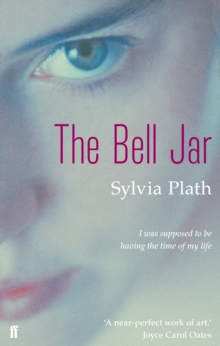 Description
I was supposed to be having the time of my life.When Esther Greenwood wins an internship on a New York fashion magazine in 1953, she is elated, believing she will finally realise her dream to become a writer.
But in between the cocktail parties and piles of manuscripts, Esther's life begins to slide out of control.
She finds herself spiralling into serious depression as she grapples with difficult relationships and a society which refuses to take her aspirations seriously.The Bell Jar, Sylvia Plath's only novel, was originally published in 1963 under the pseudonym Victoria Lucas.
The novel is partially based on Plath's own life and descent into mental illness, and has become a modern classic.
Information
Format: Paperback
Pages: 240 pages
Publisher: Faber & Faber
Publication Date: 02/06/2005
ISBN: 9780571226160
Other Formats
eAudiobook MP3 from £10.49
Paperback from £5.99
Hardback from £9.49
EPUB from £6.39
CD-Audio from £14.39
Free Home Delivery
on all orders
Pick up orders
from local bookshops
Reviews
Showing 1 - 5 of 8 reviews.
Previous | Next
Review by Allisinner
16/06/2015
This book had long been on my too read book. I remember my sister, who is not a reader, reading it in high school but for some reason I didn't get around to reading it until I was 30 years old. I found I couldn't put the book down once I started it. I loved how at first the heroine seemed so together but you quickly realize that she is not and her breakdown is entirely believable as how her mind realizes something is wrong and rationalizes her actions. I must admit that how much I empathized with her scared me at times but I realized that a lot of people go through a phase of not knowing who they are and what they want out of life but not all people have a breakdown over it.
Review by Pummzie
16/06/2015
Part of me thinks, as for Douglas Coupland and Dave Eggers, I may have missed the optimal age for appreciation of this author. My late teens and early twenties would have been the most dangerous time to let Esther's depression get its nails into me. I think the Bell Jar will resonate with introverted, bookish teenagers and young adults who possess a life long tendancy towards solitariness and romantic notions of suicide but who will (hopefully) with the passing of time and a vague maturity, learn to live in the world as best they can. Esther is so authentic, so believable that it is hard not to think that much of this is autobiographical and I can't imagine how painful it must have been to write, although of course, it may well have been cathartic for Plath.Plath possessed a keen eye, a taste for wickedness and a love for irony which mean the tale of slide into depression and back is not all this work has to offer. The saddest thing about it is that it contains or alludes to much of the bitterest aspects of life which anyone, if moved to dwell on them often and deeply, could find incapacitating.Time to read something vaguely uplifting methinks
Review by Moniica
16/06/2015
Synopsis: The novel opens in New York where Esther Greenwood has won a scholarship and meets new friends and people. After she returns home from her scholarship, however, things start to spiral downhill for Esther until she is sent to a mental institute where she receives shock treatment.My Opinion: While we do not find out if Esther has been granted permission to return home, it was interesting to read about her life living under the bell jar, being held in suspense as we wondered whether the shock treatments would lift the bell jar and connect her with the outside world.
Review by Fluffyblue
16/06/2015
This book was really in two parts - the first part deals with Esther's first job after leaving college, the second part deals with her breakdown and the consequences thereof.I found the first part of the book more interesting than the second - it was reflective of Esther's coherence in life in New York. The second half was more muddled and confusing - which, again, reflects Esther's mind.The writing was witty but there was a sadness beneath.
Review by Namwan_
16/06/2015
This book got me hooked from the very start until the end. It's disturbing, though, that I understand Esther all too well; as if I was her. Maybe I was once like her, and maybe still. Maybe that's why I like the book.