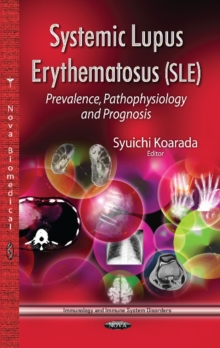 Systemic Lupus Erythematosus (SLE) : Prevalence, Pathophysiology & Prognosis
Hardback
Description
Systemic lupus erythematosus (SLE) is one of the prototypical systemic autoimmune diseases characterised by inflammation, immune complex deposition, and vasculitis.
Patients with SLE show various symptoms and clinical images, both constitutional and specific organ symptoms.
They include the skin, joints, muscles, kidneys, lungs, nervous system, and blood vessels.
Although the aetiology of the disease is still unclear, genetic, hormonal, immunologic abnormalities and environmental factors complicatedly play important roles in the pathophysiology in SLE.
It is evident that multiple genes show genetic susceptibility to SLE.
Environmental factors of SLE and immunologic abnormalities, especially the production of a number of auto-antibody, are important features of the disease.
In this book, we present recent knowledge about the prevalence, pathophysiology and prognosis of SLE.
The book includes various interesting chapters: Chapter One: An illustrated overview of the prevalence and clinical symptoms of systemic lupus erythematosus; Chapter Two: Pathophysiology of systemic lupus erythematosus; Chapter Three: MBL and MBL genotypes in SLE; Chapter Four: Novel biological activities of autoantibodies as the potential markers of systematic lupus erythematosus; Chapter Five: Cytokines in systemic lupus erythematosus (sle) with clinical aspects and prognostics; Chapter Six: Prognosis in systemic lupus erythematosus; Chapter Seven: Auto-antibody-producing RP105-negative B cells in humans and a murine model of lupus erythematosus.
Information
Format: Hardback
Pages: 120 pages
Publisher: Nova Science Publishers Inc
Publication Date: 01/01/2014
Category: Physiology
ISBN: 9781628089905
Free Home Delivery
on all orders
Pick up orders
from local bookshops