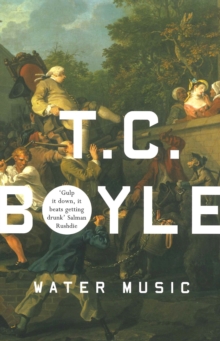 Description
In London, Ned Rise, thief and whoremaster, is drinking Strip-Me-Naked with Nan Punt and Sally Sebum at the Pig and Pox Tavern in Maiden Lane. And, far from his native Edinburgh, the explorer Mungo Park is stranded in the Sahara, a prisoner of the Moors of Ludamar.
Water Music is the rambunctious account of two men's wild adventures through the gutters of London and the Scottish Highlands to their unlikely meeting in darkest Africa, as they search for the source of the Niger, a river no European has ever laid eyes upon.
Information
Format: Paperback
Pages: 448 pages
Publisher: Granta Books
Publication Date: 12/01/1998
ISBN: 9781862071551
Free Home Delivery
on all orders
Pick up orders
from local bookshops
Reviews
Showing 1 - 2 of 2 reviews.
Review by cathepsut
16/06/2015
I gave up on page 160. Honest, this book might be considered an exceptional book and T.C. Boyle a great writer, but I couldn't have cared less what happens to the hero next. I kept dragging myself from chapter to chapter without ever developing any real interest in the characters. It's quite nice to read something a bit on the unusual side, but I kept getting the impression, that the author was trying very hard to show off his vocabulary. Sorry, but no thanks!
Mungo Park, a Scottish lad, sets out on a voyage to Africa to be the first white man (hon-kee) to clap eyes on the river Niger. Culture clash ensues.I inevitably have to draw comparisons here to Neal Stephenson's Baroque Cycle and not just because I finished it two weeks ago. Set in the same era (18th century) around jolly olde London and more exotic locations, they had many similarities: the scientifically inclined blundering straight man, the enterprising but unlucky vagabond who survives being hanged, and the smartest and wittiest character is an ex-slave interpreter who gets challenged to a duel. It also much resembled Baroque Cycle by being hilarious and totally unconvincing, in a good way. But apart from obviously being a lot shorter, it was also an easier read, something you could almost recommend to a friend with a straight face. I read on Wikipedia (or somewhere) that it was Boyle's first novel after writing a lot of short fiction and the chapters indeed average only a few pages long.After the full-steam first half it did get more serious with the homecoming of the main character. While the romance part itself was not too shabby, the explorer wasn't the only one who was itching to ditch the lass and get back to Africa to find out where the Niger ends. No I didn't goddamn know either and I wasn't going to cheat by consulting a map. So he combines forces with Ned Rise, the other main character of whom I've neglected to say anything about here but who nonetheless is the true dynamo of the book, and returns to the dark continent. The ending is quite satisfying is all I'll say, a major difference to the botched epilog of the Baroque Cycle. Can you tell I'm still bitter about that?