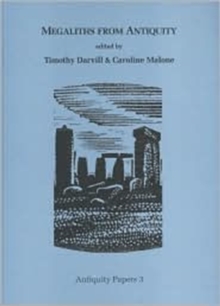 Megaliths from Antiquity
Paperback / softback
Description
The third volume of Antiquity Papers explores the ever intriguing theme of British and European megaliths.
Thirty-six papers examine four principal themes in megalithic studies. Concerning the earliest monuments, the great tombs and dolmens, papers range from Daniel's early studies of British dolmens to more recent debates.
The perennial interest in Stonehenge and Avebury has figured prominently in Antiquity and is brought fully up to date.
The presence of timber and earth circles as precursors or alternatives to megalithic structures show further variety in ancient monument building.
The final section, Beyond the Megaliths, demonstrates the abiding interest in interpretations of function and meaning in the ancient stones, through studies of ancient engineering, archaeoastronomy and sensory archaeology.
These reprinted classic papers draw on the 75-year tradition of the journal Antiquity .
Information
Format: Paperback / softback
Pages: 386 pages, b/w illus
Publisher: Antiquity Publications Ltd
Publication Date: 15/02/2003
Category: British & Irish history
ISBN: 9780953976225