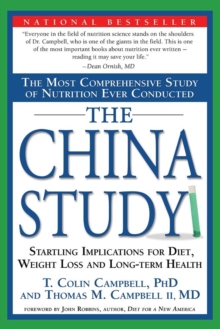 The China Study : The Most Comprehensive Study of Nutrition Ever Conducted and the Startling Implications for Diet, Weight Loss and Long-term Health
Paperback
Description
Even today, as trendy diets and a weight-loss frenzy sweep the nation, two-thirds of adults are still obese and children are being diagnosed with Type 2 diabetes, typically an "adult" disease, at an alarming rate.
If we're obsessed with being thin more so than ever before, why are Americans stricken with heart disease as much as we were 30 years ago? In The China Study, Dr. T. Colin Campbell details the connection between nutrition and heart disease, diabetes, and cancer.
The report also examines the source of nutritional confusion produced by powerful lobbies, government entities, and opportunistic scientists.
The New York Times has recognized the study as the "Grand Prix of epidemiology" and the "most comprehensive large study ever undertaken of the relationship between diet and the risk of developing disease." The China Study is not a diet book.
Dr. Campbell cuts through the haze of misinformation and delivers an insightful message to anyone living with cancer, diabetes, heart disease, obesity, and those concerned with the effects of aging. [This book is also available in Spanish, El Estudio de China.]
Information
Format: Paperback
Pages: 417 pages, illustrations
Publisher: BenBella Books
Publication Date: 01/08/2006
Category: Coping with illness
ISBN: 9781932100662
Free Home Delivery
on all orders
Pick up orders
from local bookshops
Reviews
Showing 1 - 5 of 18 reviews.
Previous | Next
Review by pbirch01
16/06/2015
Its a bit hard to write a review of this book because I am not sure where to start. The title would be the best place, but that is where the greatest flaw lies. The title of the book talks about the China Study, unfortunately very little coverage is given to the actual study except to say how it was conducted and a brief review of the results. The rest of the book is filled with aggressive arguments for the reader to become vegetarian, moaning about the current state of nutrition, and talking about how great the author thought he was by receiving multiple grants. The argument for the conversion to vegetarianism dominated the majority of the available pages. The author cited journals but often used older journals and drew some quick conclusions. While its true that there were some good points in the book, I would suggest reading a condensed version on Wikipedia. That way you can learn about the research without having to hear the author talk about his friends and how great of a job he did in the oft mentioned but rarely discussed China Study.
Review by Hraefn
16/06/2015
Although the title would lead one to believe that the eponymous China Study is the focus of this book, it is not. But the less than ideal title aside, this book is full of hard (if sometimes controversial) information based on multiple scientific studies. If you have friends who cannot be convinced to even consider vegetarianism or veganism for environmental, ethical or economic reasons, but who may possibly be swayed by scientific evidence pointing to negative impacts of animal food eating on their own health, then this is THE book to recommend. It makes very little mention of environmentalism, ethics, animal rights etc. Part of its strength lies in its recommendation to (severely) limit animal-based foods rather than outright abstention. This is the type of diet more likely to be followed by someone not motivated by ethical considerations anyway.It also makes a good case for why studies like the ones cited within are rarely undertaken and why the results gleaned from them are mired in controversy when they actually do happen. This man has seen from the inside the politics of food production, the coziness between the food industries and government bodies charged with regulating them, It does have a few problems with admittdly unsubstantiated conclusions (mainly those involving casein), but the ones that are substantiated (and published in peer-reviewed journals) present a very strong case without the potentially flawed ones.Vegetarians and vegans will love it because it will bolster their resolve. Everyone else needs to read it because this is the information that your doctor will just never tell you, probably because he or she was never taught it.
Review by ZachMontana
16/06/2015
The best nutrition book I've read. Written by a scientifically credible person with thorough annotation of studies and facts. Makes one examine their diet and look at the long term health implications of eating various food types. Convincing argument that statistically eating a whole foods plant diet is far better for the average person's health and longevity.
Review by Iralell
16/06/2015
Fantastic and enlightening book. If diet and nutrition hadn't become such taboo topics lately, I'd be sending copies to everyone I care about. It's occasioned my own transition to a vegetarian diet.
Review by BUSTED
16/06/2015
A very well written book! Very informative and backs up what he's researched very well. Although he never actually studies a 100% vegetarian or vegan diet he does imply that going 100% plant would be more beneficial to us all and makes it clear in his book allowing the reader to make his/her own decisions. This should be required reading for all!