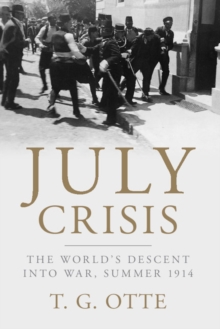 July Crisis : The World's Descent into War, Summer 1914
Paperback / softback
Description
This is a magisterial new account of Europe's tragic descent into a largely inadvertent war in the summer of 1914.
Thomas Otte reveals why a century-old system of Great Power politics collapsed so disastrously in the weeks from the 'shot heard around the world' on June 28th to Germany's declaration of war on Russia on August 1st.
He shows definitively that the key to understanding how and why Europe descended into world war is to be found in the near-collective failure of statecraft by the rulers of Europe and not in abstract concepts such as the 'balance of power' or the 'alliance system'.
In this unprecedented panorama of Europe on the brink, from the ministerial palaces of Berlin and Vienna to Belgrade, London, Paris and St Petersburg, Thomas Otte reveals the hawks and doves whose decision-making led to a war that would define a century and which still reverberates today.
Information
Format: Paperback / softback
Pages: 558 pages, 32 Plates, black and white; 2 Maps
Publisher: Cambridge University Press
Publication Date: 07/05/2015
Category: European history
ISBN: 9781107695276