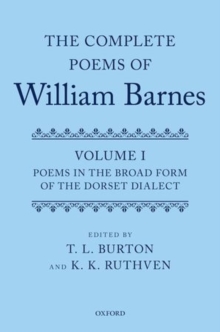 The Complete Poems of William Barnes : Volume I: Poems in the Broad Form of the Dorset Dialect
Hardback
Description
This is the first volume of Oxford's three-volume edition of The Complete Poems of William Barnes.
William Barnes (1801-1886) was an outstanding but undervalued dialect poet, and this will be the first critical edition of his complete poems.
Volume I provides the first critical edition of his Poems of Rural Life, in the Dorset Dialect (1844), which broke new ground by memorializing in print the speech of a rapidly disappearing rural culture. Unfortunately, that 1844 volume has never been reprinted.
This is partly because Barnes was persuaded to make its constituent poems more accessible to metropolitan readers of subsequent editions by spelling Dorset words in ways that approximated more closely to standard English, and partly because most editors andanthologists have reprinted only those revised versions of 1844 poems which Barnes published in his 1879 (and final) collection of his dialect poems. By restoring the integrity of Barnes's first volume, and investigating both its literary lineages and dialectological preoccupations, this annotated edition will enable readers to experience the initial products of those extraordinary years when Barnes was unwaveringly confident in the expressive adequacy of the Dorset dialect as a medium for poetry.
Much of the literary, historical, and topographical information here brought to bear on the 1844 volume is drawn from rarely cited regional publications as well as from Barnes's uncollected contributions to newspapers and journals.
The Editors' Introduction, which describes the origins, nature, and reception of Barnes's inaugural volume, offers historical accounts of both the kinds of poetry it represents and the dialectological interests that underpin it. This edition of Barnes's earliest poems in the Dorset dialect will prompt a reconsideration of their present status in the Victorian literary canon.
Information
Format: Hardback
Pages: 658 pages, 8 black-and-white halftones
Publisher: Oxford University Press
Publication Date: 21/11/2013
Category: Literary studies: c 1800 to c 1900
ISBN: 9780199567522