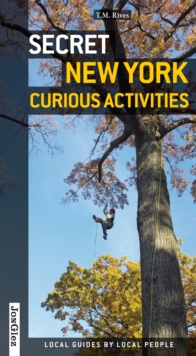 Secret New York - Curious Activities
Paperback / softback
Description
Shoot a rifle off Fifth Avenue, track the path of an underground river that flows beneath Washington Square, take a trip within yourself in a sensory deprivation chamber, learn to spot fossils in the walls of buildings or collect your own on city beaches, observe bats on the hunt during a night walk, listen to a Stradivarius in a tiny concert hall created by an obsessed luthier, explore forbidden islands in a kayak, prepare for the end of the world at a survival class in Central Park, speed through the bay on the rail of a racing sailboat, climb giant trees in a botanic garden, go on the beat with a pair of NYPD cops, take a puppet-making class from an expert, watch feeding whales lunge from the deep.
A continuation of adventures begun in Secret New York: an Unusual Guide, author T.M.
Rives shows you that the town that has everything has more than you ever imagined.
Information
Format: Paperback / softback
Pages: 254 pages
Publisher: Jonglez
Publication Date: 15/01/2014
Category: Travel & holiday guides
ISBN: 9782361950767