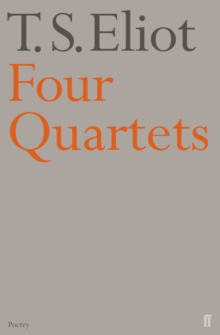 Description
Four Quartets is the culminating achievement of T.S.
Eliot's career as a poet. While containing some of the most musical and unforgettable passages in twentieth-century poetry, its four parts, 'Burnt Norton', 'East Coker', 'The Dry Salvages' and 'Little Gidding', present a rigorous meditation on the spiritual, philosophical and personal themes which preoccupied the author.
It was the way in which a private voice was heard to speak for the concerns of an entire generation, in the midst of war and doubt, that confirmed it as an enduring masterpiece.
Information
Format: Paperback
Pages: 64 pages
Publisher: Faber & Faber
Publication Date: 01/07/1996
Category: Poetry by individual poets
ISBN: 9780571068944
Other Formats
CD-Audio from £9.59
eAudiobook MP3 from £4.79
EPUB from £8.10
Free Home Delivery
on all orders
Pick up orders
from local bookshops
Reviews
Showing 1 - 5 of 5 reviews.
Review by agricolaoval
16/06/2015
What makes me go back to Four Quartets again and again even if I'm totally cynical of Eliot's mysticism which I don't take seriously for a moment, and which I very much doubt he really believed in himself? The answer is of course that it doesn't really matter. Eliot's poems have the kind of poetic force that sweeps aside any petty criticisms. His observations are so acute, and his imagery is so insanely beautiful that his shortcomings as a thinker become quite irrelevant. This little book is a thing of beauty that can be enjoyed through a whole lifetime.
Review by Virginia_Rounding
16/06/2015
I try to re-read these at least once a year, & every time something else strikes me in them. I understand a bit more, or a particular passage resonates with me. Inexhaustible.
Review by milti
16/06/2015
It's a difficult read and you definitely need annotations, but even by itself it has a music that is rare.
Review by StephenBarkley
16/06/2015
Over two millennia ago, a Hebrew philosopher known anonymously as the Qoheleth offered this observation:"[God] has made everything beautiful in its time. Also, he has put eternity into man's heart yet so that he cannot find out what God has done from the beginning to the end" (Ecclesiastes 3:11 ESV).You could consider Eliot's Four Quartets his own wrestling on this ancient theme. Despite the Byrds' zen-like refrain, the Qoheleth was troubled by this dark truth. We are creatures of time without the capacity to understand beginning and ending (let alone eternity!)Eliot's meditations are correspondingly dark. He begins, like the Qoheleth:"Time present and time pastAre both perhaps in time future,And time future contained in time past.If all time is eternally presentAll time is unredeemable" ("Burnt Norton" 1-5).Time is a mystery. We can't grasp it. We can't somehow view it from the fixed point of a wheel—we can only participate in the dance that circuits around the "still point" ("Burnt Norton" 66).Four Quartets are not something to be read lightly. They are incredibly dense and pregnant with meaning. This is language distilled to its essence.For the Christian, these poems hold something extra. Eliot's high-church Anglican worldview is infused in his writing. Consider these verses about the death of Christ:"The dripping blood our only drink,The bloody flesh our only food:In spite of which we like to thinkThat we are sound, substantial flesh and blood—Again, in spite of that, we call this Friday good" ("East Coker" 67-71).Indeed, the incarnation of Christ is the only real solution to time. In Jesus, the eternal entered time. If we have a hope of grasping the mystery, it will be found in him.More than Eliot's day, ours is full of people "Distraction from distraction by distraction / Filled with fancies and empty of meaning" ("Burnt Norton" 101). It is a helpful antidote to slow down and meditate deeply on something. Aside from scripture, I can think of no better work of art than Eliot's Four Quartets.
Review by jarvenpa
16/06/2015
Lovely, dense poetry. I used to carry this with me everywhere.