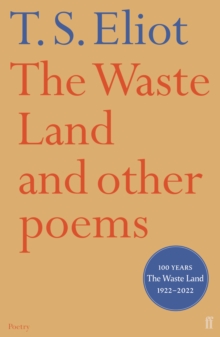 The Waste Land and Other Poems
Paperback
Description
April is the cruellest month, breeding Lilacs out of the dead land, mixing Memory and desire, stirring Dull roots with spring rain ...Published in 1922, The Waste Land was the most revolutionary poem of its time, offering a devastating vision of modern civilisation which has lost none of its power as we enter a new century.
Information
Format: Paperback
Pages: 96 pages
Publisher: Faber & Faber
Publication Date: 01/03/1972
Category: Poetry by individual poets
ISBN: 9780571097128
Other Formats
CD-Audio from £9.95
eAudiobook MP3 from £4.79
EPUB from £8.10
Paperback from £5.45
Free Home Delivery
on all orders
Pick up orders
from local bookshops
Reviews
Showing 1 - 2 of 2 reviews.
I have never taken an instant like to a poet before. Not even Dorothy Parker, whom I adored reading. I don't know what it is about Eliot, but the language just grabs you and snogs you and holds you. I just kept going back over verses, again and again, because some of the writing is just so damn pleasurable. My love for <I>Ash Wednesday</I> was so strong and so immediate that half a day later I was in a bookshop thumbing through the complete works. <br/><br/>It's a doomed love affair. I'm sure soon enough I'll find out he was a religious nutter who hated women or something. Until then, I'll read a few more poems and enjoy them while I can.<br/>
Review by JudyCroome
27/08/2015
8:16 pm 23 February 2015 The Waste Land and Other Poems - T.S. EliotI've read (and listened to) this collection of poems half a dozen times. THE WASTE LAND is, without a doubt, still my favourite. It's hard to understand, pompous at times and so dense with allusions to other works I lose track of what's Eliot's work and what isn't. And yet ... on some atavistic level this poem still "talks" to me. The rhythm, the magic, the sheer (dare I say it) poetry in the lines (April is the cruellest month, breeding lilacs out of the dead land) draws a reader in and shakes up emotions I didn't even know I had. The tension between the physical and the metaphysical is tremendous; Eliot clearly had a deep experience of how earthbound and limited we are by the very denseness of our bodies (...the last fingers of leaf Clutch and sink into the wet bank), while the voice of our souls rush by unheard (The wind Crosses the brown land unheard). THE WASTE LAND is a mournful cry of a man trapped in a world of harsh reality (it was written only four years afer the devastation of Europe in World War 1), sensing there is something more (Madame Sosostris), yet unable to feel or perhaps believe in it (... this card, which is blank,...,which I am forbidden to see). Here, in this poem, is the struggle between the intellect and the emotions (fear death by water - in the Tarot the water cards represent emotion), good and evil and man's lower, sexual nature and his higher, Divine nature. What a brilliant, depressing, strong poem it is!So strong, it almost overshadows the other poems in this collection. But ASH WEDNESDAY, with its tone of sorrow and penitance already obvious from the title, is another powerful poem, as is JOURNEY OF THE MAGI and the remainder of the poems. In its struggle between hope and despair, this collection is as relevant today as it was in Eliot's time and is worth the effort it takes to try and grasp its elusive meaning.