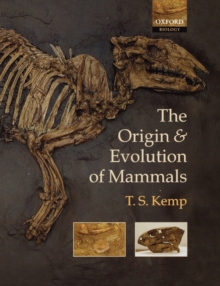 The Origin and Evolution of Mammals
Paperback / softback
Description
Mammals are the dominant large animals of today, occurring in virtually every environment.
This book is an account of the remarkable 320 million year long fossil record that documents their origin, their long spell as no more than small, nocturnal creatures, and their explosive radiation since the extinction of the dinosaurs 65 million years ago.
Tom Kemp also unveils the exciting molecular evidence, which, coupled with important new fossils, is presently challengingcurrent thinking on the interrelationships and historical biogeography of mammals.
The Origin and Evolution of Mammals will be of interest to advanced undergraduate and graduate students as well as researchers in vertebrate palaeontology, biogeography, mammalian systematics and molecular taxonomy.
It will also be welcomed by vertebrate fossil enthusiasts and evolutionary biologists of all levels with an interest in macroevolutionary problems.
Information
Format: Paperback / softback
Pages: 344 pages, numerous line drawings
Publisher: Oxford University Press
Publication Date: 01/11/2004
Category: Evolution
ISBN: 9780198507611