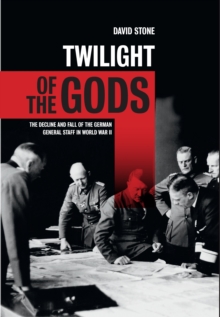 TWILIGHT OF THE GODS
Hardback
Description
When Hitler enabled the transformation of the Truppenamt into the general staff in 1935, General Beck saw an opportunity to re-establish a command of great power and influence that would act as a stabilising influence on Germany as a whole.
Such a vision ran directly contrary to Hitler's ideology, however, setting up a tension that continued to ferment throughout the war, culminating in the assassination attempt on the Fuhrer by an internal resistance movement in 1944.
In this new and comprehensive study, acclaimed author David Stone analyses the strengths and flaws of the command system, showing that the gradual marginalisation of the Army high command in favour of Hitler's own staff - including Himmler's SS - was rooted in the fact that the general staff both underestimated and misunderstood the true nature of the National Socialist movement that had gained control of Germany by 1933.
He also examines the successes of the general staff in the context of the many trials and tribulations they faced as part of the Nazi war machine.
Presenting an original interpretation of Germany at war, we get a picture of an organisation at the heart of Axis military planning, which was intentionally complicated by Hitler.
Information
Format: Hardback
Pages: 440 pages
Publisher: Bloomsbury Publishing PLC
Publication Date: 31/10/2011
Category: European history
ISBN: 9781844861361
Other Formats
Hardback from £12.75
Blu-ray / Audio from £14.59
CD / Box Set from £22.25
CD / Album Digipak from £13.85
EPUB from £3.35
Paperback / softback from £5.65
CD / Album from £11.95
Vinyl / 12" Album from £18.25
PDF from £2.33