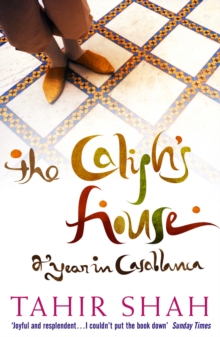 The Caliph's House
Paperback
Description
Look into the eyes of a jinn and you stare into the depths of your own soul... Writer and film-maker Tahir Shah - in his 30s, married, with two small children - was beginning to wilt under brash, cramped, ennervating British city life.
Flying in the face of friends' advice, he longed to fulfil his dream of finding a place bursting with life, colour, history and romance - somewhere far removed from London - in which to raise a family.
Childhood memories of holidaying with his parents, and of a grandfather he barely knew, led him to Morocco and to 'Dar Khalifa', a sprawling and, with the exception of its jinns, long-abandoned residence on the edge of Casablanca's shanty town that, rumour had it, once belonged to the city's Caliph. And so begins Tahir Shah's gloriously vivid, funny, affectionate and compelling account of how he and his family - aided, abetted and so often hindered by a wonderful cast of larger-than-life local characters: guardians, gardeners, builders, artisans, bureacrats and police (not forgetting the jinns, the spirits that haunt the house) - returned the Caliph's House to its former glory and learned to make this most exotic and alluring of countries their home.
The Caliph's House is a story of home-ownership abroad - full of the attendant dramas, anxieties and frustrations - but it is also much more.
Woven into the narrative is the author's own journey of self-discovery, of learning about a grandfather he hardly knew, and of coming to love the magical, multi-faceted, contradictory country that is Morocco.
Information
Format: Paperback
Pages: 368 pages, Line drawings
Publisher: Transworld Publishers Ltd
Publication Date: 01/02/2007
Category: Travel writing
ISBN: 9780553816808
Free Home Delivery
on all orders
Pick up orders
from local bookshops
Reviews
Showing 1 - 2 of 2 reviews.
Review by soylentgreen23
16/06/2015
Tahir Shah quits the comfortable convenience of London with his wife and young children, and buys a beautiful, but run-down, estate in Casablanca. The book is about his first year's experiences in Casablanca, and is a more gruelling "Year in Provence."I struggled through parts of the book. I found the story to be captivating, but when a writer describes a difficult experience well, it can prove to be a difficult reading experience too, and I certainly found that to be the case. Shah's writing style was also sometimes distracting - he has a tendency to run from one topic to another, keeping each story ultrashort, when perhaps it would have been better had he kept to one issue at a time and explored each more fully.Still, a really worthwhile read for the insights it offers into Moroccan living.
Review by akeela
16/06/2015
In an attempt to realise his "delusions of grandeur", Shah moves to Morocco with his family of four, from London, buys an expansive house set on an acre of ground and starts renovating it to make it more habitable. Apparently the house had been vacant for ages. This delightful memoir spans the year of renovations and of coming-to-terms with the sometimes outlandish customs of the locals. This was well-written and very entertaining!