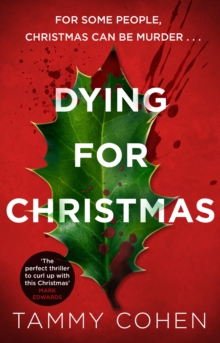 Dying for Christmas
Paperback
Description
This is a powerful psychological thriller to chill you over Christmas - the twists of GONE GIRL, the suspense of THE ICE TWINS, the psychological intensity of MISERY..."Packs a killer twist". (Prima). "Wickedly funny". (Sunday Mirror). I am missing. Held captive by a blue-eyed stranger. To mark the twelve days of Christmas, he gives me a gift every day, each more horrible than the last.
The twelfth day is getting closer. After that, there'll be no more Christmas cheer for me.
No mince pies, no carols. No way out...But I have a secret. No-one has guessed it. Will you?
Information
Format: Paperback
Pages: 400 pages
Publisher: Transworld Publishers Ltd
Publication Date: 20/11/2014
Category: Crime & mystery
ISBN: 9781784160173
Other Formats
EPUB from £3.99
Paperback from £12.85
Free Home Delivery
on all orders
Pick up orders
from local bookshops
Reviews
Showing 1 - 2 of 2 reviews.
Review by nicx27
16/06/2015
Jessica Gold goes to a stranger's flat on Christmas Eve after being chatted up by him in the café of an Oxford Street department store. Dominic then ends up keeping her prisoner over the twelve days of Christmas, giving her a different, beautifully wrapped, present every day.This story is in two parts. The first is Jessica telling her story of what happened over those twelve days. I did find the narration quite strange and far-fetched and not as scary as I thought it was meant to be. However, there is a twist to the tale and part two made it all make sense and redeemed the story for me. The twist is quite something, actually. Throughout the book we also follow some of the police investigation into Jessica's disappearance and we learn quite a lot about the investigating officer, Kim, although her story just seems to be there to offer a different perspective.The book doesn't quite have the elements that I want in a truly great psychological thriller but it was a page turner. The ending left me with questions though. It made a change from the usual Christmas story.Thank you to the publishers and Netgalley for providing a copy for review.
Review by lostinalibrary
16/06/2015
Jessica Gold is taking a small break from Christmas shopping when she is approached by a handsome stranger at a small cafe. He introduces himself as Dominic and admits he has been following her. Despite this rather large red flag, Jessica agrees to go back to his flat with him. Things quickly go bad for her. Dominic holds her prisoner to help him celebrate the season in his own unconventional way. Each day, he gives her a present and tells her a story about the gift, stories that seem to add up to murder. Dominic is one scary psychotic man!It is harder to get a grip on Jessica. She talks about her family, her life, and her live-in boyfriend as well as her experiences with Dominic but there's a sense that she may not be the most reliable narrator. Even her psychiatrist suggests that Jessica is unpredictable and Jessica, herself, points out to the reader that she has a secret. Still author Tammy Cohen really ratchets up the tension and we have no doubt that, even if everything Jessica is saying may not be exactly the truth, she is terrified.The book is divided into two parts and in the second, Jessica's secret is revealed. I found this second half a bit less believable but just as engrossing. With a less talented writer, I could have felt cheated. Instead, I was willing to suspend my disbelief just that little bit more because I needed to know how it would all work out.Dying for Christmas is a real page-turner guaranteed to keep the reader on the edge of their seat. With a villain easy to hate and a narrator easy to mistrust, this is the perfect anti-Christmas tale, the antidote to all the fake Christmas cheer, the inescapable peppy Xmas tunes, the commercialism, and the sense that maybe the day after Halloween is just way too early to start the season so that by December it's just 'please end it now'. A definite recommendation for fans of Gillian Flynn or Christmas curmudgeons everywhere.