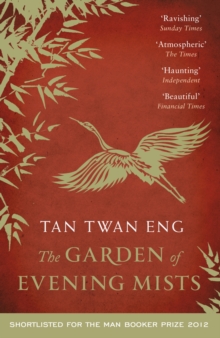 The Garden of Evening Mists
Paperback
Description
The International Bestseller Winner of the Man Asian Literary Prize 2012 Winner of the Walter Scott Prize for historical fiction 2013 Shortlisted for the Man Booker Prize 2012 Shortlisted for the 2014 International IMPAC Dublin Literary Award 'With ravishing sensuousness, it conjures up the lush landscapes and tea estates of Malaya during the 1950s Emergency ...A haunting novel about memory' Sunday Times Books of the Year In the highlands of Malaya, a woman sets out to build a memorial to her sister, killed at the hands of the Japanese during the brutal Occupation of their country.
Yun Ling's quest leads her to The Garden of Evening Mists, and to Aritomo, a man of extraordinary skill and reputation, once the gardener of the Emperor of Japan.
When she accepts his offer to become his apprentice, she begins a journey into her past, inextricably linked with the secrets of her troubled country's history.
Information
Format: Paperback
Pages: 352 pages
Publisher: Canongate Books Ltd
Publication Date: 28/04/2013
Category: Fiction
ISBN: 9781782110187
Other Formats
Hardback from £14.65
CD-Audio from £17.95
EPUB from £5.39
Free Home Delivery
on all orders
Pick up orders
from local bookshops
Reviews
Showing 1 - 2 of 2 reviews.
Review by Eyejaybee
16/06/2015
This is, quite simply, a breathtaking book, though I fear my description below will fail adequately to capture any of its beguiling mystique.The basic plot concerns the return in the late 1980s of recently-retired judge, Yun Ling Teoh, one of only two women to have been appointed to the Malaysian Supreme Court Bench, to the region of the Cameron Highlands where she had grown up. A few weeks earlier she had been diagnosed as suffering from a particular form of aphasia which, she has been advised, is likely to cause her to lose all of her memories, and this prompted her to take early retirement. She wants to try to commit her story to paper wile she can still remember it.We gradually learn that during the Second World War she had been imprisoned by the Japanese in an internment camp somewhere in the heart of Malaysia. Her elder sister, Yun Hong, had been imprisoned with her and had died in the camp. We subsequently discover that the mistreatment of the inmates of that camp had been on a particularly gruesome scale Yun Ling had been the only survivor from that camp. Yun Hong had died there.As Yun Ling starts to record her memoirs, the action moves back to the period immediately following the end of the Second World War. Having returned to freedom Yun Ling returns to the area and stays with Magnus Pretorius, a South African veteran of the Boer War who had relocated to Malaya where he had built up an esteemed tea plantation and become a close friend of Yun Ling's family. Liberation from the Japanese Occupation was followed by a bloody struggle for independence, which would culminate in the transformation from British-ruled Malay to the Independent Malaysia. This was not a seamless or bloodless change, and cells of communist terrorists (referred to as CTs) are rife throughout the rain forest and commit a number of atrocities in the area where Yun Ling and the Pretorius family are living.Shortly before the war began, Yun Ling and her family had made a brief visit to Japan where she and, to an even greater degree, her sister had fallen in love with the concept of the Japanese ceremonial garden. While they had been incarcerated the two girls had consoled themselves with dreams of the garden that they would create if they were ever released. Back in the Cameron Highlands Yun Ling is introduced to Nakamura Aritomo, formerly the Head Gardener for Emperor Hirohito. Having fallen out with the Emperor he has been exiled to Malaya where he starts trying to create his own garden. Despite her initial revulsion for all things Japanese, Yun Ling comes to work alongside, and gradually befriends Aritomo, being enchanted by his philosophy of life.This gives some of the basic context, but the author manages to weave a marvellous story that seems to operate flawlessly on so many levels while also offering a concise history of Malaya-Malaysia in the post-war and post-colonial period, and an insight into the philosophy of Japanese horticulture. The overall effect is utterly hypnotic.
Review by PennyAnne
16/06/2015
I love a book that teaches me something as well as entertains and that is the primary reason I enjoy historical fiction. This book taught me about a period of history I knew very little about - the experience of Malaya during WWII at the hands of the Japanese and their experience afterwards during the communist insurgencies. I also learned about tea plantations, Japanese gardens, the Japanese experience of WWII and the art of horimono as well as the importance and subjectivity of memory. This book was a delight on many levels.