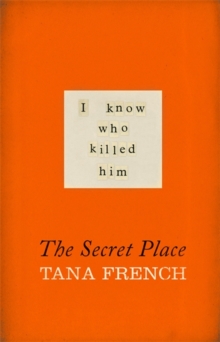 The Secret Place
Hardback
Description
'A gripping read for those still pining for GONE GIRL' Elle's top five beach reads The photo shows a boy who was murdered a year ago.
The caption says, 'I KNOW WHO KILLED HIM'. Detective Stephen Moran hasn't seen Holly Mackey since she was a nine-year-old witness to the events of Faithful Place.
Now she's sixteen and she's shown up outside his squad room, with a photograph and a story. Even in her exclusive boarding school, in the graceful golden world that Stephen has always longed for, bad things happen and people have secrets.
The previous year, Christopher Harper, from the neighbouring boys' school, was found murdered on the grounds. And today, in the Secret Place - the school noticeboard where girls can pin up their secrets anonymously - Holly found the card. Solving this case could take Stephen onto the Murder squad.
But to get it solved, he will have to work with Detective Antoinette Conway - tough, prickly, an outsider, everything Stephen doesn't want in a partner. And he will have to find a way into the strange, charged, mysterious world that Holly and her three closest friends inhabit and disentangle the truth from their knot of secrets, even as he starts to suspect that the truth might be something he doesn't want to hear. From the multi-award-winning author of Sunday Times and New York Times bestseller In the Woods, The Secret Place is a searing novel of psychological suspense.
Information
Format: Hardback
Pages: 528 pages
Publisher: Hodder & Stoughton General Division
Publication Date: 28/08/2014
Category: Crime & mystery
ISBN: 9781444755572
Other Formats
Paperback from £7.85
EPUB from £5.99
Free Home Delivery
on all orders
Pick up orders
from local bookshops
Reviews
Showing 1 - 3 of 3 reviews.
Review by RidgewayGirl
16/06/2015
Tana French's latest novel is a good one. The setting of <i>The Secret Place</i> is new; a posh girls' boarding school, but the themes are ones that French returns to book after book. There are two familiar characters this time and the book opens with Holly, Frank Mackey's daughter, waiting to talk to Stephen Moran, the young detective in <i>Faithful Place</i>. Holly goes to St. Kilda's, an expensive private school in Dublin. A year ago, a boy from the nearby boys' school was found murdered on the grounds. Despite an extensive investigation, the case has stalled out. Holly found an anonymous postcard on a school bulletin board saying, "I know who killed him." Stephen's been waiting for a chance to work with the Murder Squad and so inserts himself into the investigation with the spiky Antoinette Conway, a woman who never played along with the boys and after blowing the St. Kilda's case has been a pariah in the squad room.In form, this is a classical mystery. There's a limited number of possible suspects; eight girls who could have posted the anonymous note, and a limited time; the entire book taking place over one single, exhausting day. Teenage girls are a cipher, with their tight bonds with one another and ability to freeze out adults. Holly and her friends share a tighter bond than most, having boarded together in the same room for a few years and sharing the same distain for the games being played by their contemporaries. Conway knows that once they are allowed back together the detectives will have no chance of finding out what went on that Spring night in the early morning hours and so she and Stephen work to decipher Girlworld, with its shifting allegiances and language all its own.French returns to the theme of her first book, that of what makes a good partnership, the effortless give and take, the feeling as though you can read the other person's thoughts. Conway and Moran are very different from Rob and Cassie, but their working relationship, begun under duress, begins to develop into something that Stephen hopes might continue, and not only because he is desperate to move up into the Murder Squad.Holly and her friends are another set of relationships. Having roomed together for years, having formed an allegiance against the queen bee and her follower, and having become closer to each other than to their own families, they each have secrets, ideas of what really happened and strong reasons to protect each other. French beautifully captures the cadences of girl speak, the stylized patterns that disguise real feelings and deep communication.<i>They always act like they're having an amazing time, they're louder and high-pitched, shoving each other and screaming with laughter at nothing. But Becca knows what they're like when they're happy, and that's not it. Their faces on the way home afterwards look older and strained, smeared with the scraps of leftover expressions that were pressed on too hard and won't lift away.</i>I thoroughly enjoyed <i>The Secret Place</i>. It reminded me of both the masterful <i>Skippy Dies</i>, Paul Murray's look at boys attending a posh boarding school in Dublin and Megan Abbott's latest books about teenage girls.
Review by arkgirl1
16/06/2015
The. Secret Place is a huge book and I did take my time over it but the 500+ pages tell an intriguing crime story with some great characters. I haven't read any of French's previous Dublin Murder squad stories so I hadn't encountered any of these characters before but I will be looking out for some of the earlier books!Holly, daughter of Detective Frank Mackey, turns up at the Cold Case desk of Stephen Moran with a postcard. The card has a photo of a murder victim, Chris Harper and the cut out words 'I know who killed him', the tag line of the book, this starts a chain of events that will have a huge impact on Holly, her friends and Stephen.The victim was killed the previous year in the grounds of an upmarket girl's boarding school and was a boarder at the boy's 'partner' school. The case has gone unsolved and the initial suspect has be proven to have an alibi so things had gone quiet but when Stephen takes the card to Antoinette Conway she sees an opportunity to prove herself and takes Stephen along with her.The story is told partly through the eyes of Stephen and also through back tracking to short scenes in the lives of the pupils of St Kilda's and Colm's schools in the build up. There are elements that have a supernatural dimension with ghosts and paranormal activity that I feel felt slightly contrived at times but do add an extra ethereal, other-worldly atmosphere to the book. French creates a very tense, emotional and claustrophobic book, there are some interesting twists and turns but I did suspect the murderer from early on, but that didn't spoil the slow unfurling of the whys and wherefores of the murder.I think this is a book that would resonate strongly with the YA market but even though teenagers are central to the story the dynamic between Moran and Conway is intriguing and well written. The story has a couple of endings and the extra section at the end was the element that brought it down to 4 stars rather than 5 as I felt the book had reached a powerful ending and the last bit introduced a new character, to me, and maybe made more sense if we knew these characters from other books. That is a slight niggle but overall an excellent crime novel with good characterisation, beautifully created locations and tense, exciting story-telling.
Review by sscarllet
16/06/2015
This book was truly fantastic. It had all the best elements of a mystery novel. Lots of interesting, well formed, characters to suspect, cops from the 'wrong' side of the tracks, and an murderer who you don't suspect until French comes out and tells you. <br/><br/>My only slight complaint was the sort-of phonetic spelling. I wasn't used consistently which was a bit confusing. However, the teen speak, while perhaps a bit over the top, really helped to draw the them versus us line. <br/><br/>I would definitively suggest reading this book, its a real page turner!<br/><br/>I received this book as a First Reads win.<br/><br/>
Also in the Dublin Murder Squad series | View all