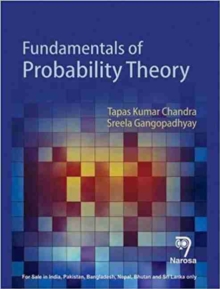 Fundamentals of Probability Theory
Paperback / softback
Description
This textbook comprises the major theorems of probability and its measure theoretic foundations.
The main topics covered are independence, interchangeability.
No prior knowledge of measure theory is assumed, and a unique feature of the book is the combined presentation of measure and probability.
Special features include: an up-to-date treatment of U-statistics, a comprehensive treatment of the law of iterated logarithm, Infinitely divisible and stable laws, complete treatment of Borel-cantelli lemmas and laws of large numbers.
Information
Format: Paperback / softback
Pages: 696 pages
Publisher: Narosa Publishing House
Publication Date: 11/11/2016
Category: Probability & statistics
ISBN: 9788184872194
Also by Tapas Kumar Chandra