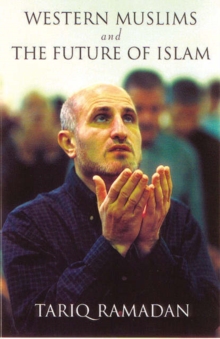 Western Muslims and the Future of Islam
Paperback
Description
In a Western world suddenly acutely interested in Islam, one question has been repeatedly heard above the din: where are the Muslim reformers? With this ambitious volume, Tariq Ramadan firmly establishes himself as one of Europe's leading thinkers and one of Islam's most innovative and important voices.
As the number of Muslims living in the West grows, the question of what it means to be a Western Muslim becomes increasingly important to the futures of both Islam and the West.
While the media are focused on radical Islam, Ramadan claims, a silent revolution is sweeping Islamic communities in the West, as Muslims actively seek ways to live in harmony with their faith within a Western context.
French, English, German, and American Muslims-women as well as men-are reshaping their religion into one that is faithful to the principles of Islam, dressed in European and American cultures, and definitively rooted in Western societies.
Ramadan's goal is to create an independent Western Islam, anchored not in the traditions of Islamic countries but in the cultural reality of the West. He begins by offering a fresh reading of Islamic sources, interpreting them for a Western context and demonstrating how a new understanding of universal Islamic principles can open the door to integration into Western societies.
He then shows how these principles can be put to practical use.
Ramadan contends that Muslims can-indeed must-be faithful to their principles while participating fully in the civic life of Western secular societies.
Grounded in scholarship and bold in its aims, Western Muslims and the Future of Islam offers a striking vision of a new Muslim Identity, one which rejects once and for all the idea that Islam must be defined in opposition to the West.
Information
Format: Paperback
Pages: 288 pages, 6 line drawings
Publisher: Oxford University Press Inc
Publication Date: 01/09/2005
ISBN: 9780195183566
Free Home Delivery
on all orders
Pick up orders
from local bookshops
Reviews
Showing 1 - 1 of 1 reviews.
Review by nabeelar
16/06/2015
This was our second book for the Ill Fated Muslim Book Club. This is a scholarly approach to Muslims living in Europe and the challenges they face in living as a religious minority. Challenges include coping with the majority population as well as dealing with extremist "live in the Muslim ghetto" mentality conservative Muslims. Tariq Ramadan is the current point man for the Muslim intelligensia in Europe, and he gained a great deal of fame when Bush et al refused to give him an entry VISA into the USA. Obama and company have let him come through the USA, and he has been making a lot of book tours since.Word of our book club had spread, and we now had slated to join some very high flying local celebrities. We were excited. However, celebrity life is very busy, and the said celebrities really don't have time to read. Sometimes they get their wives to read, but wives get busy with small chidren. We actually had one celebrity READING THE BOOK DURING DINNER, who in the end sniffed, "American Muslims are far ahead of the Europeans. I have heard all this stuff before.".Unfortunately, this was the attitude of most of the American Muslims, "We are ahead of the European Muslims politically. They ought to be learning from us, we have nothing to learn from them. They are backward." That is the sound of my teeth grinding.In retrospect, we ought to have chosen Ramadan's "What I Believe" because it is shorter and more to the point. Excellent for Muslim attention spans.Then three months later, Tariq Ramadan started his USA book tour, and everyone was touting how "brilliant' he was. Grr..The best advice Tariq Ramadan gave American Muslims? "Read more. Sit down and read a book." How can you not love this man?