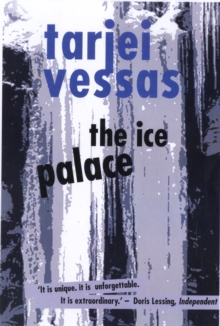 Description
A new edition of what is commonly seen as the legendary Norwegian writer's masterpiece, this story tells the tale of Siss and Unn, two friendswho have only spent one evening in each other's company.
But so profound is this evening between them that when Unn inexplicably disappears, Siss's world is shattered.
Siss's struggle with her fidelity to the memory of her friend and Unn's fatal exploration of the strange, terrifyingly beautiful frozen waterfall that is the Ice "Palace" are described in prose of a lyrical economy that ranks among the most memorable achievements of modern literature."
Information
Format: Paperback
Pages: 176 pages
Publisher: Peter Owen Publishers
Publication Date: 01/05/2009
ISBN: 9780720613292
Other Formats
EPUB from £6.40
Hardback from £10.25
Free Home Delivery
on all orders
Pick up orders
from local bookshops
Reviews
Showing 1 - 3 of 3 reviews.
Review by WoodsieGirl
16/06/2015
This is a strange, beautiful novel. It concerns two young girls, Siss and Unn, who have developed an intense, inexplicable bond. Unn wants to confess something to Siss, but Siss loses her nerve and runs away. Rejected, Unn can't face seeing Siss at school the next day, so plays truant and goes to explore the "ice palace" – a structure formed by the freezing waterfall. Unn never returns.There is little further action in the book after this point. The focus is not on narrative progression, but on Siss' confused feelings of guilt and loyalty to her friend. The prose is utterly beautiful throughout. The description of Unn's fatal exploration of the ice palace is among the most haunting pieces of writing I have ever read. I don't think I've ever read any other Norwegian fiction, so this may be a sweeping generalisation on my part, but it seemed to me that a novel like this could only have come out of a place like Norway. It is impossible to imagine this novel being written while the author basked in bright sunshine. The cold and the endless dark are as central to the book as Siss and Unn themselves.
Review by Luli81
16/06/2015
"Promise in deepest snow from Siss to Unn: I promise to think about no one but you."Sometimes, only a gleaming glance is enough. Siss and Unn, two eleven-year old girls living in an isolated, rural community somewhere in Scandinavia, need only a single evening together to forge an uncommon friendship that will change their lives irreparably. When four eyes full of gleams and radiance beneath their lashes, filling the looking glass, shine into each other, words become redundant. A disturbing meeting, charged with powerful silences and unsaid secrets, unites the girls beyond humane nature in an unbreakable bond, frozen in time.There is nothing childlike in this deceivingly simple tale, nothing soft or tender. The spell-binding description of a perpetually glacial scenery, where twigs weep iced drops and icicles melt in pools of tears, is as distressingly beautiful as it is ruthless and brutally cold, devoid of life. The concise, lyrical narrative evokes the Japanese haiku style, where the misleading simplicity of the text is in fact overflowing with symbolism and metaphors worthy of close reading, making of this brief novel a gem in form of a prose poem.It is precisely in this sombre setting, full of darkness lurking in recondite corners, reinforced with this sharp writing style, where the main character of the novel is presented: The eerie giant structure formed by a frozen waterfall up in the lake, called The Ice Palace. Either sanctuary or mausoleum, it arises as the eternally snow covered bridge that defies death, guilt and angst, linking Siss and Unn forever. There's only one thing to ask in exchange for this everlasting token of friendship: A promise. Siss must never forget.The pieces are all set for the magic to start. Siss, the popular leader of her peers at school and the beloved daughter of a well-off family, begins the journey with no return to become Unn, the introverted, mysterious girl, who leads an isolated life with her aunt, wrapped up in an irresistible and unsettling aura. Two gleaming faces in a mirror become one in a radiant moment, memory and dreams are fused into an impossible reality and Unn becomes Siss and Siss becomes Unn, scorching twin souls emerge amidst the implacable coldness of their existence, producing a miracle. Or a curse. For this world is made for the living, and that is a lesson Siss will have to learn if she wants to break free from a heavy burden which is drowning her in the mesmerizing but already thawing chambers of The Ice Palace.This is a sublime piece of art which masterfully portrays the intensity of new discovered feelings peaking at an early age and the necessity to merge the opposing forces involved in the process of growing up to become a whole being, and also to accept emptiness and loss as facets of life, even if that means getting rid of part of oneself. The shattered ice might melt and cease to be, but the power of memory can bring back frozen images of icicles and shiny drops of water dancing together in the flood of light that the dilated pupil caught in a blinding and timeless moment."'It's not right for you to go on as you as you are. It's not like you. You're a different person.'Don't answer. It's not meant to be answered. But it's like the gleaming of stars in a well. And no explanation."
Review by eglinton
16/06/2015
Cold theme and cold treatment; a spectral, disembodied story. Or mood piece rather, as nothing actually happens beyond the initial events, other than some adolescent intensity of feeling, floating but lacking the mystery or perhaps empathic charge a reader would need. Youngster disappears, winter landscape spreads: that's it.  At best perhaps this might produce some of the moody impact and chilly grace of a formal ballet, but - in Vesaas' short book - not for me.
Also in the Peter Owen modern classics series | View all