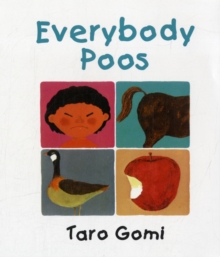 Everybody Poos Mini Edition
Hardback
Description
New in mini edition! All living things do different sorts of poo. Some are different colours, others have different smells or sizes.
Some do it on land, some poo in water. Some poo in a toilet, or in a potty, or in their nappies.
This children's book has a no-nonsense approach to the bodily function to encourage children not to be ashamed about potty training.
Information
Format: Hardback
Pages: 32 pages
Publisher: Frances Lincoln Publishers Ltd
Publication Date: 01/05/2012
Category: Picture books
ISBN: 9781847803337
Free Home Delivery
on all orders
Pick up orders
from local bookshops
Reviews
Showing 1 - 1 of 1 reviews.
Review by MaryBethLingner
16/06/2015
"Everybody Poops" was a funny book that I really liked. First, I liked how the author described all the ways different living things pooped through his illustrations and words. It was funny to see how he depicted various animals pooping and what it looked like. In one part the author says, "Different animal make different kinds of poop. Different shapes. Different colors. Even different smells." On the same page he showed the behinds of a bunch of different animals and what their poop looked like through his illustrations. I also liked how he describes where different things poop like on the go, in a bathroom, in a diaper or in the water and showed a picture to visually depict all of the different places and things pooping there. I thought it was good that for every description of what was pooping and where they were doing it, the author had a visual. I also liked the book for how it was written. It was very straight-forward about such a funny and gross topic, which I think is good because I think the message was better received with a casual tone. If the book had been written in a way that was flashy about the subject of pooping or serious people would not have understood that, "Everyone Poops" was just a simple book that wanted to tell kids about the simplicity of going number two. The big idea of "Everyone Poops" is funny but important. Most kids have a hard time being potty trained and are sometimes embarrassed by the fact that they poop. What the book tells kids (and probably even some shy adults) is to not worry about pooping or be embarrassed by it, because it is a very normal activity that every living thing does.