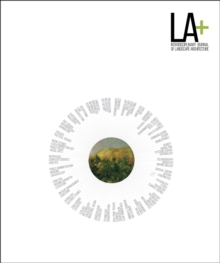 LA+ Wild
Paperback / softback
Description
LA+ WILD explores the concept of WILD and its role in design, large-scale habitat and species conservation, scientific research, the human psyche, and aesthetics.
This issue of LA+ includes contributions drawn from disciplines as diverse as evolutionary ecology, biology, visual arts, bioengineering, landscape architecture, planning, architecture, climatology, environmental history, philosophy, and literature.
It features essays by Timothy Mousseau and Anders Moller, Timothy Morton, Paul Carter, Richard Weller, Julian Raxworthy, Emma Marris, Stefan Rahmstorf, Stephen Pyne, Nina-Marie Lister, and Orkan Telhan, among others.
It also includes a review of the New York s Rebuild by Design competition, and interviews with eminent ecologists Richard T.T.
Forman and Daniel Janzen. The feature artist for this issue is Viennese bio-artist Sonja Baumel.
LA+ (Landscape Architecture Plus) Journal from the University of Pennsylvania School of Design is the first truly interdisciplinary journal of landscape architecture.
Within its pages you hear not only from designers, but also from historians, artists, lawyers, ecologists, planners, scientists, philosophers, and many more besides. LA+ aims to reveal connections and build collaborations between landscape architecture/urban design and other disciplines by exploring each issue's theme from multiple perspectives.
The journal features a range of contribution types including essays, interviews, design criticism, graphic features, illustrations, and short-form pieces designed to provoke and inspire readers.
LA+ Journal brings you a rich collection of contemporary thinkers and designers in two lavishly illustrated issues annually."
Information
Format:Paperback / softback
Pages:120 pages, illustrations
Publisher:Oro Editions
Publication Date:01/12/2015
Category:
ISBN:9781941806593