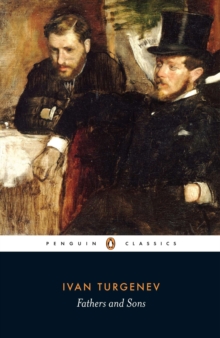 Fathers and Sons
Paperback
Description
Ivan Turgenev's Fathers and Sons explores the ageless conflict between generations through a period in Russian history when a new generation of revolutionary intellectuals threatened the state.
This Penguin Classics edition is translated from the Russian by Peter Carson, with an introduction by Rosamund Bartlett and an afterword by Tatyana Tolstaya.
Returning home after years away at university, Arkady is proud to introduce his clever friend Bazarov to his father and uncle.
But their guest soon stirs up unrest on the quiet country estate - his outspoken nihilist views and his scathing criticisms of the older men expose the growing distance between Arkady and his father. And when Bazarov visits his own doting but old-fashioned parents, his disdainful rejection of traditional Russian life causes even further distress.
In Fathers and Sons, Turgeneve created a beautifully-drawn and highly influential portrayal of the clash between generations, at a time just before the end of serfdom, when the refined yet vanishing landowning class was being overturned by a brash new breed that strove to change the world.Peter Carson's elegant, naturalistic new translation brings Turgenev's masterpiece to life for a new generation of readers.
In her introduction, Rosamund Bartlett discusses the novel's subtle characterisation and the immense social changes that took place in the 1850s Russia of Fathers and Sons.
This edition also includes a chronology, suggested further reading and notes.If you enjoyed Fathers and Sons, you might like Leo Tolstoy's The Death of Ivan Ilyich and Other Stories, also available in Penguin Classics.'One of the first Russian novels to be translated for a wider European audience.
It is a difficult art: in this superb new version, Peter Carson has succeeded splendidly' Michael Binyon, The Times 'If you want to get as close as an English reader can to enjoying Turgenev, Carson is probably the best' Donald Rayfield, The Times Literary Supplement
Information
Format: Paperback
Pages: 240 pages
Publisher: Penguin Books Ltd
Publication Date: 24/09/2009
Category: Classic fiction (pre c 1945)
ISBN: 9780141441337
Free Home Delivery
on all orders
Pick up orders
from local bookshops
Reviews
Showing 1 - 2 of 2 reviews.
Review by jackkane
16/06/2015
Considering its notoriety, Turgenev's novel is surprisingly tame. In the end, the symbol of progressivism - Bazarov - dies, while the old aristocracy continues about its business, covering itself under a guise of liberalism.Bazarov, for all his rhetoric, is an arrogant hypocrite. He chatters about work, but does nothing useful. He frolics around aristocratic manors, talks down to everybody, and dissects frogs. He frowns upon women and love, but falls for Odintzova. He despises romanticism and espouses nihilism, without realizing that the latter is the radical successor of the former. He denounces artistocratism, but engages in a duel he recognizes as ridiculous. In the end his pride consumes him and he dies an ugly death, to the horror of his doting parents and his frigid sweetheart.From a historical perspective, 'Fathers and Sons' is quietly perceptive. The emancipation of 1961 merely exchanged one form of slavery for another. The aristocracy relinquished official feudalism, but didn't change much until 1917. The Russian muzhik continued his hard life through the Red revolution, and into today's capitalist oligarchic 21st century Russia. The more things change, the more they stay the same.In the end, Turgenev's novel is just another 19th century story about idle aristocrats moping about, taking long walks to divert boredom, falling in love, and dying of horrible deceases. The most appealing aspects of the novel are its humanity and its brisk, readable style.
Review by Eyejaybee
16/06/2015
Possibly the first modern Russian novel. The central figures Barazov and Arkady show a marked contrast in their eventual approaches to life. Bazarov is a self-professed nihilist, believing that the established order should always be challenged.Arkady is initially in thrall to Bazarov's tenets, to the extent that he risks alienating his old-fashioned father and even more traditional uncle. The novel is one of self discovery, though, and Arkady eventually marries Katya Lokteva, having previously been infatuated with her elder sister Anna. However, it is Bazarov who falls irredeemably in love with Anna, thus compromising the beliefs that have been the pillar of his entire being.