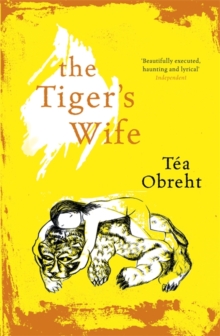 The Tiger's Wife
Paperback
Description
A spellbinding journey through the troubled history and colourful folklore of the Balkans, from the youngest ever winner of the Orange Prize.
Natalia is on a quest: to discover the truth about her beloved grandfather.
He has died far from home, in circumstances shrouded in mystery.Recalling stories her grandfather told her as a child, Natalia suspects he may have died trying to unravel two mysteries.
One was the fate of a tiger which escaped during German bombing raids in 1941; the other a man who claimed to be immortal.
But, as Natalia learns, there are no simple truths or easy answers in this landscape echoing with myths but still scarred by war.
Information
Format: Paperback
Pages: 352 pages
Publisher: Orion Publishing Co
Publication Date: 01/06/2011
ISBN: 9780753827406
Free Home Delivery
on all orders
Pick up orders
from local bookshops
Reviews
Showing 1 - 5 of 8 reviews.
Previous | Next
Review by Xemulas
16/06/2015
There is no doubt that Obreht is an author of some talent- her manipulation of language and use of imagery are of the standard one would expect of one dabbling in magical realism.That said, this award winning venture never really did it for me, and the main after effect form reading it is one of disappointment. The uninteresting narrator tells tales of her genuinely quite interesting grandfather, and his stories from his past involving The Tiger's Wife and The Deathless Man.The stories never seem to blend together into one coherent 'Novel'. I would much rather have had a separate and more lovingly rendered account of the Tiger in the village, or the grandfather's encounters with The Deathless Man. The book fails in that Obreht attempts to link this all together through a thoroughly turgid narrator, and the elements end up falling flat of being greater than the sum of their parts.The Deathless Man parts were excellent, and worth reading in their own right, but the book as a whole never rises above being painfully average.
Review by katelnorth
16/06/2015
This was the current month's choice for my book group, and I really enjoyed it - I often (but not always) like the Orange Prize winners, so I'm not that surprised, but this was right up my alley - a touch of magical realism, a hint of fable, and a reasonable amount of grounding in the real world, too.
Review by whirled
16/06/2015
Oy. I really struggled with this one. The cover blurb and the Orange Prize and all the salivating reviews suggested it might be enjoyable. And, there's no doubt in my mind that Tea Obreht is a prodigiously talented young writer. I might give her next book a try. I just didn't care one iota about the story or the characters of <i>The Tiger's Wife</i>. It feels somehow blasphemous to say that, but there it is.
Review by DubaiReader
16/06/2015
Rambling.This book was a struggle, I really did not enjoy it. The Tiger's Wife did not appear until at least half way through the book and the title could equally well be 'The Deathless Man', a similarly mythological character who I found more interesting.These village folk stories are held together by Natalia, a nurse who travels to help vaccinate the children of a Balkan orphanage some distance from her home. While there she discovers that she is close to the place where her Grandfather had recently died.The Grandfather is another central character and we learn about his childhood, youth and courtship in Yougoslavia, before and during the war.Unfortunately the author tends to provide far more detail than necessary as she goes off on rambling descriptions of unnecessary things like the past history of the one gun in the village or the full history of the Tiger's Wife's husband. The ultimate fate of the Tiger's Wife was also very unsatisfying.This was a book group read and met with almost unanimous dislike from the readers. I'm just glad I've finally reached the end - after 3 months of having this sitting part read on my shelves.
Review by sushitori
16/06/2015
Details about a "deathless" man, much like a grim reaper, and an escaped zoo tiger surviving in the countryside are intriguing. But the story jumps around too much and there is too much background given for minor characters. Another case of overstated acclaim based on the author's birthplace rather than her writing ability.
Also by Tea Obreht