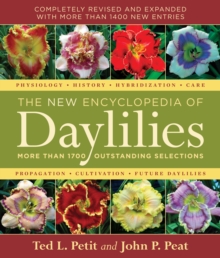 The New Encyclopedia of Daylilies : More Than 1700 Outstanding Selections
Hardback
Description
It's no exaggeration to say that daylilies are the premier flowering perennial.
From a handful of wild species belonging to the genus Hemerocallis, breeders have produced tens of thousands of hybrids in a dazzling array of colors, patterns, and shapes.
Adding to their appeal is their hardiness, ease of care, and ability to combine well with other plants.
With so many daylilies currently available, a pictorial guide to the best and most exciting cultivars is essential.
More than 1700 daylilies - 1400 of them new to this edition - are illustrated in close-up, detailed photographs.Each photograph is accompanied by a comprehensive description that includes information on color, size, bloom season, and parentage.
Also included are chapters on daylily physiology, the history of the genus, the history of daylily hybridizing, hybridization techniques, and cultivation.
Peat and Petit have created an authoritative reference and essential resource for anyone - nursery professional, hybridizer, designer, or enthusiast - who wishes to explore the vast potential of these beautiful plants.
Information
Format: Hardback
Pages: 408 pages, 1751 color photos, 3 watercolors
Publisher: Timber Press
Publication Date: 12/11/2008
Category: Gardening: flowers
ISBN: 9780881928587
Free Home Delivery
on all orders
Pick up orders
from local bookshops
Reviews
Showing 1 - 1 of 1 reviews.
Review by presto
16/06/2015
Considerably expanded and updated on the original The Color Encyclopedia of Daylilies, published in 2000, The New Encylopedia of Daylilies follows very much the same format. Authors Ted L Petit and John P Peat, both daylily hybridisers amongst other things, have also made several changes and additions to the original. Firstly it is considerably enlarged; there are around 100 additional pages, and many more pictures, over 1700 of which 1400 are new to his edition. There is a very large chapter on daylilies of the future, and looking the other way there are more of the older varieties of significance included. While the chapter on Hybridizers of Today is noticeable extended, much of the information however in other chapters under the main headings The Daylily Plant and The History of the Daylily remains basically the same, with just some minor edits. With around 60,000 registered daylilies to choose from, up by some 20,000 since the original publication, the authors not surprisingly admit to the difficulty of choosing which to include. They explain that their choice is based on those which, through their own experience, they believe are the most worthy and worthwhile cultivars. They have also considered other sources such as the popularity polls of the American Hemerocallis Society and winners of AHS awards. They have also taken into account those plants which are most widely grown based on information in the Eureka Daylily Reference Guide. With the seeming popularity of Spider, Variants and Unusual Forms it is a little surprising that this particular section is no larger than the original edition. I suspect Messes Peat and Petit have a preference for the rounder and ruffled forms. The section Daylilies of the future is very large and contains many beautiful unnamed seedlings, but showing so many is rather like putting child in a sweet shop and telling him he can't have any, for without the names we will never in fact be able to have them.This book is certainly a valuable addition on the subject of the Daylily, and it is a handsome and generally well produced volume. I have a coupe of criticisms, firstly for some reason the alphabetical arrangement of the cultivars appears in places to have been abandoned; secondly, and this was a criticism of the original edition too, that a few of the pictures are of suspect quality with either poor focusing or lighting. The reproduced colour of some of the daylilies might also be call into question, but they are notoriously difficult to photograph accurately being very subject to the effects of the lighting; the colour and form is also affected by climate and even the length of time the plant has been growing – so it is difficult too be to critical here. But that aside it is a worthy publication.