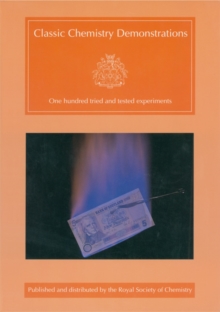 Classic Chemistry Demonstrations
Paperback / softback
Description
Classic Chemistry Demonstrations is an essential, much-used resource book for all chemistry teachers.
It is a collection of chemistry experiments, many well-known others less so, for demonstration in front of a class of students from school to undergraduate age.
Chemical demonstrations fulfil a number of important functions in the teaching process where practical class work is not possible.
Demonstrations are often spectacular and therefore stimulating and motivating, they allow the students to see an experiment which they otherwise would not be able to share, and they allow the students to see a skilled practitioner at work.
Classic Chemistry Demonstrations has been written by a teacher with several years' experience.
It includes many well-known experiments, because these will be useful to new chemistry teachers or to scientists from other disciplines who are teaching some chemistry.
They have all been trialled in schools and colleges, and the vast majority of the experiments can be carried out at normal room temperature and with easily accessible equipment.
The book will prove its worth again and again as a regular source of reference for planning lessons.
Information
Format: Paperback / softback
Pages: 322 pages, No
Publisher: Royal Society of Chemistry
Publication Date: 01/01/1996
Category: Chemistry
ISBN: 9781870343381