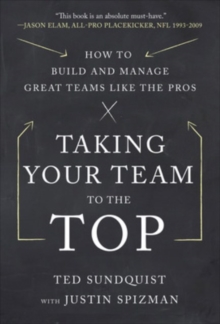 Taking Your Team to the Top: How to Build and Manage Great Teams like the Pros
Hardback
Description
LEARN HOW TO SPOT TALENT, BUILD A GREAT TEAM, AND WIN IN BUSINESS!Ted Sundquist was educated at the U.S.
Air Force Academy. He played and coached football for the Academy, served as a flight commander in Germany, and went on tobecome General Manager of the Denver Broncos.
In other words, Sundquist has spent his entire adult life building powerful, effective teams that get things done. In Taking Your Team to the Top, Sundquist gives you the knowledge, skills, and motivation to replicate his remarkable success. Whether you run a global corporation or small business, you'll learn how to accurately evaluate new hires from enormous talent pools, quickly implement them into your organization's existing team culture, and create a dedicated mission statement to maximize team success. In this groundbreaking guide, Sundquist combines the sum total of his vast and diverse leadership experience with lessons and insights from some of today's top leadership experts, including:DANA PERINO, White House Press Secretary for President George W.
BushDR. TOM OSBORNE, Head Coach of the University of Nebraska football team and U.S.
CongressmanDR. HARVEY SCHILLER, Commissioner of the SEC and Secretary General of the U.S.
Olympic CommitteeED ROSKI, one of the Forbes 200 richest people in AmericaJEFF PASH, Executive VP and General Counsel of the NFLCHAD HENNINGS, three-time Super Bowl Champion and defensive tackle for the Dallas CowboysYou can have the best business strategy available.
But without the best and brightest people collaborating in a healthy way to execute that strategy, it's only worth the paper it's printed on. Taking Your Team to the Top offers the fundamentals you need to unlock individuals' abilities and talents while adding to team synergy to accomplish any business objective, in any business--large or small. PRAISE FOR TAKING YOUR TEAM TO THE TOP:"Ted Sundquist outlines in detail how to organize and lead a corporation to real success.
He provides a plan to reach this success while always emphasizing the importance of personal involvement, compassion, and caring for your people (employees).
I highly recommend Taking Your Team to the Top for all CEOs of every level." -- Lt.
General Winfield W. Scott, Jr., United States Air Force"Having had the opportunity to play under Ted's leadership on the Denver Broncos, I came to highly respect him not only as a person but for his managerial skills that lead us to two Super Bowl championships....
If you are seeking insight into how to best build, manage, and lead your team to success, this book is an absolute must-have." -- Jason Elam, All-Pro Placekicker, NFL 1993-2009"In a world quick to measure short-term performance, we often get fleeting temporary results.
I love how Ted challenges some of these norms and embraces a leadershipstyle that is others-focused: built around compassion, chemistry and ultimately a long-term lasting impact.
This book is a great read for the leader who is looking to leverage his or her position for real impact and influence on others." -- Jeff Nolde, Vice President, Values Based Wealth Management, Morgan Stanley"Ted has drawn on his experience as an athlete, military officer, and NFL club executive to create a valuable and practical guide for anyone in a position of leadership, whether it be business or sports executive, a head coach or entrepreneur." -- Jack Mills, President, Ascent Sports
Information
Format: Hardback
Pages: 256 pages
Publisher: McGraw-Hill Education - Europe
Publication Date: 04/06/2013
Category: Business & management
ISBN: 9780071805445
Free Home Delivery
on all orders
Pick up orders
from local bookshops