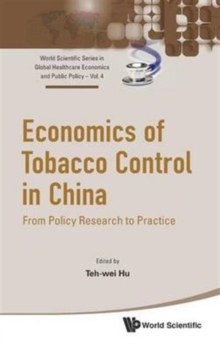 Economics Of Tobacco Control In China: From Policy Research To Practice
Hardback
Description
Nearly 370 million people in China smoke; about one-third of all smokers in the world are in China; and about 1.2 million deaths in China are attributable to smoking.
The death toll is expected to reach 2.2 million in 2030 if no smoking intervention programs are implemented.
Taxation on tobacco products is one of the most effective tobacco control programs.
This book addresses not only why China should raise cigarette tax, but also how to raise the tobacco tax, by providing decision makers with relevant research findings and quantitative estimate about the impact of raising the tobacco tax.
It documents how these research findings were communicated to the Chinese government officials, and how, finally, tobacco tax was raised 10 years after China's ratification of the WHO Frame Work Convention on Tobacco Control Treaty.The purposes of this book are (1) to inform economists, public health professionals, and policymakers about the economic consequences of smoking, (2) to provide the essential economics (particularly related to taxation) and public health information upon which to build the specifics of the taxation policy that is adopted, (3) to identify barriers, challenges, and recommendations for the Chinese government, and (4) to describe how research findings can be disseminated and communicated successfully to Chinese government policy makers.
It is a must read for researchers who are interested in China's tobacco control efforts and in how to communicating their findings to the policy makers.
It could also be useful for tobacco control professionals, researchers and policy makers in other countries.
Also in the World Scientific Series in Global Health Economics and Public Policy series | View all