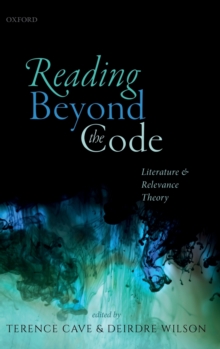 Reading Beyond the Code : Literature and Relevance Theory
Hardback
Description
This book explores the value for literary studies of the model of communication known as relevance theory.
Drawing on a wide range of exampleslyric poems by Yeats, Herrick, Heaney, Dickinson, and Mary Oliver, novels by Cervantes, Flaubert, Mark Twain, and Edith Whartonnine of the ten essays are written by literary specialists and use relevance theory both as a broad framing perspective and as a resource for detailed analysis.
The final essay, by Deirdre Wilson, co-founder (with Dan Sperber) of relevance theory, takes a retrospective view of the issues addressed by the volume and considers the implications of literary studies for cognitive approaches to communication.
Relevance theory, described by Alastair Fowler as 'nothing less than the makings of a radically new theory of communication, the first since Aristotle's', offers a comprehensive pragmatics of language and communication grounded in evidence about the ways humans think and behave.
While designed to capture the everyday murmur of conversation, gossip, peace-making, hate speech, love speech, 'body-language', and the chatter of the internet, it covers the whole spectrum of human modes of communication, including literature in the broadest sense as a characteristically human activity.
Reading Beyond the Code is unique in using relevance theory as a prime resource for literary study, and it is also the first to claim that the model works best for literature when understood in the light of a broader cognitive approach, focusing on a range of phenomena that support an 'embodied' conception of cognition and language.
This broadened perspective serves to enhance the value for literary studies of the central claim of relevance theory, that the 'code model' is fundamentally inadequate to account for human communication, and in particular for the modes of communication that are proper to literature.
Information
Format: Hardback
Pages: 256 pages
Publisher: Oxford University Press
Publication Date: 31/05/2018
Category: Literary theory
ISBN: 9780198794776
Free Home Delivery
on all orders
Pick up orders
from local bookshops