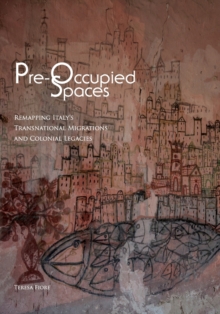 Pre-Occupied Spaces : Remapping Italy's Transnational Migrations and Colonial Legacies
Paperback
Description
By linking Italy's long history of emigration to all continents in the world, contemporary transnational migrations directed toward it, as well as the country's colonial legacies, Fiore's book poses Italy as a unique laboratory to rethink national belonging at large in our era of massive demographic mobility.
Through an interdisciplinary cultural approach, the book finds traces of globalization in a past that may hold interesting lessons about inclusiveness for the present.
Fiore rethinks Italy's formation and development on a transnational map through cultural analysis of travel, living, and work spaces as depicted in literary, filmic, and musical texts.
By demonstrating how immigration in Italy today is preoccupied by its past emigration and colonialism, the book stresses commonalities and dispels preoccupations. Table of ContentsPreface viiIntroduction. All at One Point: The Unlikely Connections between Italy's Emigration, Immigration, and (Post)Colonialism 1Part I.
Waters: Migrant Voyages and Ships from and to Italy Aperture I: An Osean of Pre-Occupation and Possibilities: L'orda 231.
Crossing the Atlantic to Meet the Nation: The Emigration Ship in Mignonette's Songs and Crialese's Nuovomondo 312.
Overlapping Mediterranean Routes in Marra's Sailing Home, Ragusa's The Skin Between Us, and Tekle's Libera 50Part II.
Houses: Multiethnic Residential Spaces as Living Archives of Pre-Occupation and InventionAperture II.
A Multicultural Project in a National Square: The Orchestra of Piazza Vittorio 753.
Displaced Italies and Immigrant "Delinquent" Spaces in Pariani's Argentinian Conventillos and Lakhous's Roman Palazzo 834.
Writing the Pasta Factory and the Boardinghouse as Transnational Homes: Public and Private Acts in Melliti's Pantanella and Mazzucco's Vita 104Part III.
Workplaces: A Creative Re-Occupation of Labor Spaces against ExploitationAperture III.
Labor on the Move: Rodari's Construction Workers and Kuruvilla's Babysitter 1315.
Edification between Nation and Migration in Cavanna's Les Ritals and Adascalitei's "Il giorno di San Nicola" 1376.
The Circular Routes of Colonial and Postcolonial Domestic Work: Pero's and Ciaravino's Alexandria and Ghermandi's "The Story of Woizero Bekelech and Signor Antonio" 161Conclusion.
Italy as a Laboratory for Imagi-Nation: The Citizenship Law between Inbound and Outbound Flows 183Notes 197Works Cited 227Index 241Image Credits 249
Information
Format: Paperback
Pages: 320 pages
Publisher: Fordham University Press
Publication Date: 01/06/2017
Category: European history
ISBN: 9780823274338
Free Home Delivery
on all orders
Pick up orders
from local bookshops
Also in the Critical Studies in Italian America series | View all