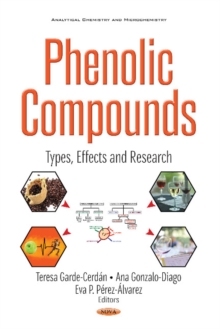 Phenolic Compounds : Types, Effects & Research
Hardback
Description
Phenolic compounds are a large family of metabolites that result from the secondary metabolism of plants.
Novel insights about phenolic chemical structure, analytical methods, therapeutic effects, sensory properties, viticultural practices to modify their content and the use of these compounds found in agro-industrial wastes have been gathered in this book.
A comprehensive overview on phenolic compounds and neurodegenerative disorders, highlighting their antioxidant, anti-inflammatory properties and their effects on Parkinsons disease have been compiled.
In relation to antioxidant properties, the metabolism and bioavailability of several hydroxycinnamic acids present in coffee have been studied in detail, and also the methods to determine antioxidant capacity have been included.
Different strategies in order to improve the extraction and determination of phenolic compounds in a complex matrix by analytical techniques are provided, reporting problems and new analytical solutions.
The role of these compounds in colour stabilisation and also in bitterness and astringency perception has been reported.
Moreover, the interactions that take place among no volatile and volatile compounds present in wine affecting sensory perception have been briefly introduced.
Furthermore, the use of cover crops in vineyards and their effects on agronomical and enological behaviour -- particularly, their impact on phenolic compounds -- have been highlighted.
Finally, the biological properties of phenolic compounds from industrial wastes have been tackled, since they are a promising alternative to transform agro-industrial wastes into a source of natural and healthy compounds.
Information
Format: Hardback
Pages: 240 pages
Publisher: Nova Science Publishers Inc
Publication Date: 01/07/2017
Category: Analytical chemistry
ISBN: 9781536120332
Free Home Delivery
on all orders
Pick up orders
from local bookshops