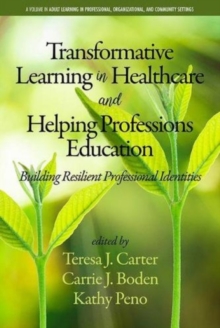 Transformative Learning in Healthcare and Helping Professions Education : Building Resilient Professional Identities
Hardback
Description
Transformative Learning in Healthcare and Helping Professions Education: Building Resilient Professional Identities is a co-edited book (Carter, Boden, and Peno) with invited chapters from educators who share our passion for learning in healthcare and the helping professions.
The purpose of the book is to introduce professional learners (students, residents, and others in professional training) to transformative learning for building resilient professional identities amid practice environments that include widespread burnout and compassion fatigue.
With a diverse set of authors engaged in clinical and educational practice in academic medicine, nursing, dentistry, physical therapy, mental health counseling, science education, psychology, social work, and inter-professional collaborative practice, we offer strategies for building resilience throughout the years of professional training and into professional practice.
We do so through the experiences of authors involved in healthcare and the helping professions to illustrate how some are coping with the challenges of burnout and compassion fatigue through learning that can be transformative. This book explores the nature of professional identity formation by examining ways that professionals in training can thrive amid the challenges of today's stressful practice environments.
First-hand stories of resilience illustrate how learners, as well as educators in these professions, are addressing adversity, career decision-making, service to the underserved, and the self-care needed to provide excellent care for others.
The prominence of transformative learning within adult learning theory is illustrated for its potential to revise the meaning that learners make of their experiences and open up new possibilities for renewed vitality in professional education and practice environments. The book has two primary audiences: professional learners in healthcare and helping professions education, and their educators who are often professional practitioners themselves.
These educators have a significant role in influencing the next generation of professionals by serving as mentors, role models, and teachers.
The importance of fostering learning that is transformative has never been more important than it is today for those who will work in these demanding professions.
We invite readers to discover experiences and strategies for achieving individual wellbeing, as well as opportunities for building a culture within professional education and practice settings that will foster resilience.
Information
Format: Hardback
Pages: 394 pages
Publisher: Information Age Publishing
Publication Date: 30/05/2019
Category: Social welfare & social services
ISBN: 9781641136808
Free Home Delivery
on all orders
Pick up orders
from local bookshops