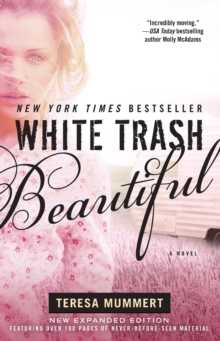 White Trash Beautiful
Paperback
Description
"I'm not naive. I know I don't get the happily ever after. My knight in shining armor took the highway detour around this god forsaken shit hole.
I've made peace with that. That doesn't mean I'm going to lay down like a doormat and let every cocky prick in the trailer park have his way with me." Cass lives a depressing life in a small trailer park in Eddington, Georgia, with her mother and abusive boyfriend Jackson.
She works hard to barely make ends meet. But everything changes when Tucker White, the lead singer in the band Damaged, walks into her diner.
He tries to show her that there is more to life than the hand she has been dealt, but Cass soon learns that being with Tucker will come at a high price.
Information
Format: Paperback
Pages: 240 pages
Publisher: Simon & Schuster
Publication Date: 09/07/2013
ISBN: 9781476732022
Other Formats
EPUB from £0.99
eAudiobook MP3 from £16.76
Free Home Delivery
on all orders
Pick up orders
from local bookshops
Reviews
Showing 1 - 5 of 6 reviews.
Previous | Next
Review by angieanzaldua
16/06/2015
I really loved this book. It was entertaining. I was rooting for Cass and Tucker to work out but also the whole rock star thing is a little intimidating. I really wanted her to kick her no good boyfriend to the curb but it showed what kind of person she is. she thinks of others before herself. I loved how she bloomed and gained a little confidence. The relationship between Cass and Tucker is steamy and had me wondering if my phone was gonna catch fire. This is a must read.
Review by Books007
16/06/2015
I don't really even know how to express what I think about this book. Was it a dud? No, not really. Was it a hit? No, not really.Cass is in a abusive relationship with her drug addictive boyfriend, Jax. They live in a trailer park, in a run down trailer, with her mother - who is also a drug addict - while she works at a nearby cafe. She doesn't leave because, while he is abusive, he wasn't always that way and he was the one man who hasn't left her and her mother. Enter Tucker. The unexpected prince come to her rescue, even though it takes a while for her to really see that. (And she is definitely no princess.) Can she trust him? Can he handle her & all the mess that surrounds her?I gotta admit...Cass & Tucker both drove me crazy!?! I did like their characters enough but their actions just didn't always seems to fit their emotions. I felt a disconnect at times because of that (just too unrealistic.) Maybe if we had gotten more of Tucker's point of view? And it defintely had a darker side to it (so if you are looking for a light read - this isn't it.)Am I glad I read it? Yes. Will I read more by this author? Not sure. I received this book in exchange for an honest review for netgalley.
Review by Lisa.Hines
16/06/2015
You can find this review at My Favorite Things (heffroberts.blogspot.com)White Trash Beautiful by Teresa Mummert will get under your skin and into your heart from practically the first page! An touching story of family, abuse and how love makes a difference.Audible Audiobook "Review: White Trash #1: White Trash beautiful"If you could sum up White Trash Beautiful in three words, what would they be?-Love conquers all!What other book might you compare White Trash Beautiful to and why?-Oh, I don't think I've really ever read anything quite like this. Um, the abuse both characters suffered in Jessica Sorensen's "Callie & Kayden" series and maybe Julianne's painful experience in Gabriel's Inferno by Sylvain Reynard.Which scene was your favorite?-The scene where they were dancing in the hotel room and probably the very last scene in the book which I won't describe due to spoilers.Did you have an extreme reaction to this book? Did it make you laugh or cry?-This book hurt. People suffer the abuse that Cass suffered every day, it's tragic, but at least for a fairy tale moment this girl found her handsome white knight to rescue her along the way. Well, it wasn't smooth going in the book either. There were loads of speed bumps along the way.But, it made for an excellent story.Any additional comments?-Grace Grant is an excellent performer and I find myself looking for audiobooks that she specifically has narrated. The skills of the performer make a huge difference for the book and she is just fantastic!***QUOTES***I'm not naïve. I know I don't get the happily ever after. My knight in shining armor took the highway detour around this godforsaken shit hole. I've made peace with that. That doesn't mean I'm going to lie down like a doormat and let every cocky prick in the trailer park have his way with me. -Cass "I'm not your sweet- heart.""Challenge accepted." He laughed.These guys were all the same. I sighed. -Cass "please don't regret me, Cass." His voice was barely audible as he ran his thumb over my cheek, catching the stray tear that had betrayed me. His words unleashed a floodgate. -Tucker "Tucker, the sky is the limit for you. My limit is the tattered fence around this trailer park." -Cass I can still smell you all over me. I can't stop thinking about you. — Tuck -Tucker He put his finger to my lips to stop me from talking. "The only thing I ever wanted out of my life was someone to share it with." -Tucker
Review by breakingbooks
16/06/2015
This book lacks continuity in time and objects. For example she starts a pot of coffee says good morning to her mother and then is able to pour the coffee directly after? There are more throughout, but that is a prime example. Also, she leaves the diner pulling off her apron before and rushes home, but the next morning she gets dressed in the trailer and puts on an apron before she goes to work? The characters are a underdeveloped and boring.
Review by schatzi
27/08/2015
Well, I have to say that I had serious reservations going into this book, but I figured...why not? I should have listened to my inner voice.So, basically, the main character, Cass, spends the first page of the book saying that she might be white trash, but she isn't a doormat to anyone - and then promptly spends the next several pages proving that, among other things, she is nothing but a liar. She allows her druggie boyfriend, who not only supplies Cass' addict mother with drugs but also physically and emotionally abuses Cass, to pretty much run roughshod over her life. And Cass seems relatively content to remain in that situation until Tucker comes along. Tucker, for reasons unknown and un-understandable to me, falls in love with Cass, who does nothing but be rude to him during their first meeting, and is determined to save her.Ugh.And the book is even worse than my summary sounds. I disliked the character of Cass immensely. Look, I grew up dirt poor, and "white trash" was something that I heard more than once in reference to myself and my family. No sense in covering that up. And the situation sucks, especially when there is significant abuse involved (which there also was in my case). That kind of environment, I believe, breeds two types of people. The first is a person who is determined that, no matter what, come hell or high water, s/he is getting out and is going to make something of her/himself. That person uses the situation as fuel for something better. And that person realizes that s/he might have to claw every inch of the way, but NOTHING and NO ONE is stopping them from getting out. And then there is the second person, who is so flooded with misery until a switch inside of him/her is flipped and s/he is determined to STAY miserable. That person lashes out, pulling equally unstable people into his/her web of interaction, surrounding her/himself with people who are going to make her/him miserable - because misery is what they know, and misery is what they accept, and misery is what, somehow, brings them comfort. I am not saying that the first person has some sort of strength or the second person has some sort of character flaw; these are just my observations. And fortunately, I was the first type of person. Cass, unfortunately, is the second type. She doesn't seem like she REALLY wants to leave, even though she's saving up money for an apartment; the company she keeps is proof enough of that. She annoyed me to no end; she could be a total jerk to those who were trying to help her or who could have helped her, which I do recognize as a coping mechanism, but she never DID anything. She was just content to be caustic and stay in her situation, and as someone who came from a situation just as bad, IF NOT WORSE, than hers...I just can't tolerate that, even in a fictional character.Tucker, on the other hand, is more like the first type - but he has saddled himself with some sort of crazy rescuer problem, where he HAS to save poor Cass from herself. Other than that, Tucker seems incredibly underdeveloped as a character. His whole purpose of existing was to rescue Cass. Meh.So, yeah, not a fan of this book. At all.