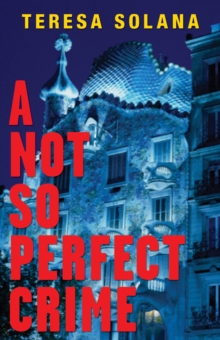 Not So Perfect Crime
Paperback
Description
Another day in Barcelona, another slimy politician's wife is suspected of infidelity.
Lluis Font discovers a portrait of his wife in an exhibition that leads him to conclude he is being cuckolded by the artist.
Concerned only about the potential political fallout, he hires twins Eduard and Pep, private detectives with a supposed knack for helping the wealthy with their 'dirty laundry'.
Their office is adorned with false doors leading to non-existent private rooms, a mysterious secretary who is always away and a broken laptop computer picked up on the street.
The case turns ugly when Font's wife is found poisoned by a marron glace from a box of sweets delivered anonymously.
This is a deftly plotted, bitingly funny mystery novel.
It is a satire of Catalan politics and a fascinating insight into the life and habits of Barcelona's inhabitants, diurnal and nocturnal.
Information
Format: Paperback
Pages: 280 pages
Publisher: Bitter Lemon Press
Publication Date: 11/09/2008
Category: Crime & mystery
ISBN: 9781904738343
Free Home Delivery
on all orders
Pick up orders
from local bookshops
Reviews
Showing 1 - 4 of 4 reviews.
Review by GraemeW
16/06/2015
Nicely plotted with a quirky pair of almost but not quite detectives, the book is perfect summer reading. The book combines light social satire with a sort of mapcap action that reminds me of nothing more than Marx Brothers movies. It's a quick and easy read that's a lot of fun.
Review by bcquinnsmom
16/06/2015
A Not So Perfect Crime is the first of three (so far) in a series of novels featuring twin brothers Eduard Martínez Estivill and Jose Martínez Estivill, the latter known as Borja Masdéu-Canals Sáez de Astorga to everyone but his brother, who knows him as Pep. Eduard hasn't even told his wife about the true identity of his brother, and the two of them constitute Frau Consultants, a private "detective" agency with false office doors and a secretary who's always away when their clients come to see them at the office. They cater to the social elite of Barcelona, people with problems and a lot of money that insures that their problems are handled discreetly. This series opener finds the two working for an MP who wants to know if the man who painted his wife's portrait is also having an affair with her. While the book brought occasional smiles to my face because of the many crazy situations in which the two find themselves, the entire crime and its solution could have been achieved in half the space, as there is much more emphasis on developing the characters, setting the social-class scene and keeping the gags going throughout the novel. This isn't necessarily a bad thing -- the characters are fun and well established by the end of the story; I can sense this series is going to be interesting as time goes by.MP Lluis Font calls in the brothers to find out whether or not his wife his having an affair with the man who painted her portrait. While investigating the artist, they discover that there are a few things that Font hasn't told them -- namely, that he's having an affair of his own, one that literally crashes down onto them. But when la Senora Font turns up dead, Eduard begins to realize that perhaps this case is more than he and Borja are prepared to handle.A Not So Perfect Crime is a good mix of a mystery to be solved, well-developed main characters and a look at Barcelona society. As the story begins to wind down, there is a decent solution to the crime, one that fits with clues gathered throughout the book. There are plenty of suspects to keep things lively and interesting and when the action is focused on the brothers' investigation, the story moves at a good pace. The brothers are funny -- they're so different from each other that it keeps things interesting. Borja is being kept in luxury by his mistress while Eduard often wonders how he and his wife are going to pay the bills. Montse, Eduard's wife, is also a well-drawn character, putting up with Eduard when his problems usually stem from the antics of his brother. The scrapes that the two get themselves into (generally of Borja's making) are entertaining as is watching them escape their collective predicament. The focus on Barcelona's higher-class levels of society are also interesting...it is a world where money can buy pretty much anything, where gossip or idle talk can kill careers or make things uncomfortable, where moral scruples are difficult to find, and where only the best will do. This is, of course, contrasted to the world of the regular people -- where bills pile up and people have to make a living. The author does a very good job of putting the two side by side so that the reader gets a feel for how the rich and powerful spend their days and how they're often able to manipulate others behind the scenes.My issue with this book is that there is a lot of stuff in here that could easily have been left out, making for a tighter, less wordy and even at times rambling story. I didn't care about Borja's adventures with Eduard's sister-in-law, for example; nor did it matter to me about Eduard's previous love affair in Paris. There's more of this kind of thing here, but lots of little things that are meant to go into character development sometimes divert attention away from the crime and its solution, making skimming seem like a good idea in some parts. I will hopefully expect that when I get to Ms. Solana's next book, Shortcut to Paradise, that less backstory will be necessary and that more focus is placed on the brothers' escapades while solving whatever crime in which they become embroiled.Overall, A Not So Perfect Crime turned out to be an entertaining novel, and a fine first foray into what I hope will turn out to be a very good crime-fiction series. Definitely recommended!
Review by bsquaredinoz
16/06/2015
Eduard and Borja are non-identical twin brothers, though they don't tell anyone (for reasons that remain a bit murky). Having not seen each other for many years they now run a business together which is a kind of private detective agency (with the emphasis more on the privacy than the detection). Essentially they undertake confidential assignments for Barcelona's wealthy and influential people. One day a politician with ambitions of his Party's highest office, Lluis Font, asks them to discover who painted a portrait he found of his wife and to determine if she was having an affair with the painter. He is, he says, troubled by the prospect of a scandal that might damage his chances of further political success. Before long though the brothers find themselves investigating an all together nastier crime than possible infidelity.<br/><br/>It is a book of small details that paint a deliciously funny portrait of the brothers and the wider society in which they live. As the book's narrator Eduard introduces himself and his brother and explains how it is that no one would know they are brothers unless they were told. Borja is stylish and sophisticated, Eduard prefers corduroy trousers and lace-up shoes; Borja has trotted the globe for twenty years while Eduard worked in a bank; and "Borja is right wing (for aesthetic reasons, he claims) and [Eudard:] soldiers on as a non-voting disillusioned left-winger". How could I not both such a character? Despite these differences the brothers really do get on rather well and as they fumble their way through an investigation which turns more serious than it first appeared their sibling relationship is shown to be quite strong and rather sweet.<br/><br/>I suspect I only scratched the surface of the satirical aspects of the novel as I'm just not that knowledgeable about Catalan politics or society though even I couldn't miss some of the not-so-gentle gibes as the wealthy were pilloried and juxtaposed with Eduard's middle class surrounds. These aspects do sometimes take precedence over the mystery, which at times seems like it might never be solved by 'detectives' who don't even carry a camera and who are more concerned with finding a parking spot in crowded Barcelona than employing standard tailing techniques, but there is an old-fashioned whodunnit within this book too. The introduction of a series of possible suspects provides the perfect device for the author to show Catalan society in many of its guises.<br/><br/>Sometimes it takes a while for me to 'get into' a book and on other occasions I know within the first few pages that it's my kind of thing. Happily A Not So Perfect Crime fell into the later category. The book is superbly translated (from the Catalan) by Peter Bush who has retained a speedily flowing and delightfully funny tale. The fact that the story turned out to have a surprisingly thoughtful ending, musing on the subject of justice and whose job it is to hand it out, pushed the book to a four-star rating on my scale. Scrumptious.
Review by annbury
16/06/2015
This is the first novel in an engaging series set in Barcelona. The main draw here is the characters, in particular the two protagonists. They are a pair of brothers who have set up a private enquiry agency, but they are very, very different -- one, in fact, has created a whole new biography for himself. The way they live, their interaction, and their assorted friends and family were interesting enough to keep me reading, and indeed to buy the next book in the series. As to the setting, its social dynamics are interestingly presented, though there is not much that conveys to me a strongly Catalan sense of place. The story, last and unfortunately least, is less than compelling.