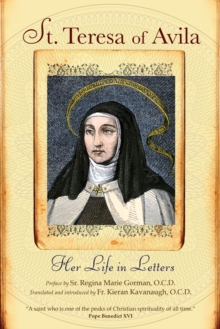 St. Teresa of Avila : Her Life in Letters
Paperback
Description
St. Teresa of Avila, one of the most interesting and important figures in the history of the Catholic Church, was also one of the most candid, entertaining, and brilliant correspondents of her century.
This selection of letters offers a unique "behind the scenes" look at this extraordinary Doctor of the Church with details of her life not originally meant for the public.
The letters begin when St. Teresa was 46-two years before she founded her first convent for Carmelite reform in Avila, Spain-and continue until her death 21 years later.
She exhibits worries, troubles, sadness, joy, triumphs, and questions throughout.
Recipients of these letters, and the people discussed in them, include some of the famous and fascinating figures of late 16-century Catholic Europe: St.
John of the Cross and Philip II of Spain. The story these letters tell is one of enduring importance to the history of the Church.
From nascent beginnings to more detailed plans, it is possible throughout St.
Teresa of Avila: Her Life in Letters to witness the birth of Spanish mysticism, the reform of the Carmelite Order, and the experiences of contemplative prayer and meditation that resulted in The Interior Castle.
Free Home Delivery
on all orders
Pick up orders
from local bookshops