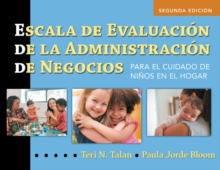 Escala de Evaluacion de la Administracion de Negocios (Spanish BAS) : Para el Cuidado de Ninos en el Hogar
Paperback / softback
Description
This is the Spanish edition of the revised and updated Business Administration Scale for Family Child Care, Second Edition.
Use BAS-2 to measure and improve the overall quality of business and professional practices in family child care settings.
La Escala de Administracion de Negocios para el Cuidado de Ninos en el Hogar (BAS) es la primera herramienta valida y confiable para medir y mejorar la calidad total de las practicas de negocios y profesionales en programas de cuidado de ninos en el hogar.
Es aplicable para multiples usos, incluyendo el auto-mejoramiento del programa, asistencia tecnica y monitoreo, entrenamiento, investigacion y evaluacion y conciencia publica.
Actualmente esta integrada en muchos sistemas estatales de calificacion y mejora de la calidad (QRIS) en todo el pais. Utilizando una escala de clasificacion de 7 puntos (inadecuada a excelente), este instrumento facil de usar evalua 10 elementos:Cualificiones y Desarrollo Profesional Ingresos y Beneficios Ambiente de Trabajo Manejo Fiscal Mantenimiento de Archivos Manejo de Riesgos Comunicacion entre Proveedor y Familia Apoyo y Envolvimiento de Familias Mercadeo y Relaciones Comunitarias El Proveedor como EmpleadorLa segunda edicion de la BAS incluye refinamientos para apoyar el uso confiable del instrumento y reflejar las mejores practicas actuales en la administracion de un programa de cuidado de ninos en el hogar. Las Notas para los articulos de la BAS se ampliaron para aumentar la comprension y facilitar una mayor coherencia tanto en la interpretacion como en la puntuacion. Hay un mayor enfasis en las practicas que promueven la participacion de la familia y la comunidad. Las nuevas normas nacionales para la BAS son reportadas basado en datos recopilados entre el 2009 y 2017 de 439 programas en el hogar en 22 estados. Utilice la BAS junto con la Escala de Calificacion del Ambiente de Cuidado Infantil en Familia-Revisada (FCCERS-R) para obtener una imagen completa del ambiente de aprendizaje de su programa de cuidado de ninos en el hogar y las practicas empresariales y profesionales que apoyan el programa.