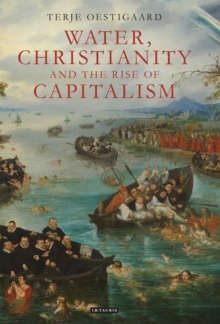 Water, Christianity and the Rise of Capitalism
Hardback
Description
The Christian religion is deeply imbued with the imagery of water, and water plays a central role in its religious practices, not least in baptism.
Yet the wider role of water in Christianity has been little explored.
In this pioneering book, Terje Oestigaard uses the dramatic changes that took place in perceptions of water during the Reformation to reveal the importance that water played in structuring society and religion in the post-Reformation period. Prior to the Reformation, most common people believed misfortune and catastrophe were caused by the devil, and sought protection in the use of holy water blessed by the local priest.
Holy water and holy wells gave laypeople a powerful weapon which could be used to keep the devil away, cure illness and protect fields, property and family.
But with the Reformation, the nature of holy water was challenged and belief in the efficacy of holy water and holy wells was attacked as Popish magic and superstition: the status of holy water became one of the main battlegrounds between Protestants and Catholics.
The author explores these conflicting views on the spiritual qualities of water and their consequences for society at large. He traces the changing views of nature that arose with Enlightenment developments in the scientific understanding of water and the hydrological cycle, and shows how the emergence of a natural theology helped encourage a belief in the Protestant work ethic whereby wealth and economic success equated with religious excellence.
The author concludes by examining - and challenging - Weber's claim that the protestant work ethic and capitalist spirit of enterprise that was so important to the later success of the Industrial Revolution came about when magic and superstition were eliminated from religion by the Reformation. The result is a highly original work that provides one of the most detailed explorations of the importance of the role of water in structuring society and religion in post-Reformation England.
Offering fresh insights into the development of society and religion, it will be welcomed by all those with an interest in water, religion, sociology, and the Reformation period.
Information
Format: Hardback
Pages: 224 pages, 16 bw integrated illustrations
Publisher: I.B.Tauris & Co. Ltd.
Publication Date: 30/05/2013
Category: History of religion
ISBN: 9781780760667
Free Home Delivery
on all orders
Pick up orders
from local bookshops