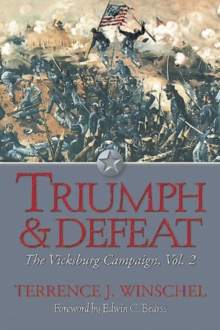 Triumph and Defeat : The Vicksburg Campaign, Volume 2
Paperback
Description
The study of the Civil War in the Western Theater is more popular now than ever before, and the center of that interest is the months-long Vicksburg Campaign, which is the subject of National Park Historian Terrence J.
Winschel's book Triumph & Defeat: The Vicksburg Campaign, Vol 2, now in paperback. Following up on the popular success of his earlier book of the same name, Winschel offers ten new chapters of insights into what has been declared by many to have been the most decisive campaign of the Civil War.
Designed to appeal to both general readers and serious students, Winschel's essays cover a wide range of topics. Winschel's chapters include detailed coverage of military operations, naval engagements, leading personalities, and even an essay about a specific family (the Lords) caught up in the nightmarish 47-day siege that nearly cost them their lives. Smoothly written and deeply researched, these fresh chapters offer balanced and comprehensive analysis written with the authority that only someone who has served as Vicksburg's Chief Historian since 1978 can produce.
Bolstered by photographs, illustrations, and numerous outstanding original maps, this second volume in the Triumph& Defeat series will stand as a lasting contribution to the study of the Civil War. Author Terry Winschel, chief historian at Vicksburg National Military Park, weaves a professional lifetime of personal experience and scholarship into this remarkable study.
His chapters cover every major aspect of what many consider to have been the decisive military achievement of the war--the capture of"The Gibraltar of the Confederacy."
Information
Format: Paperback
Pages: 240 pages, 27 images; 7 maps 7
Publisher: Savas Beatie
Publication Date: 28/06/2018
Category: History of the Americas
ISBN: 9781611212488
Free Home Delivery
on all orders
Pick up orders
from local bookshops
Also by Terrence J. Winschel