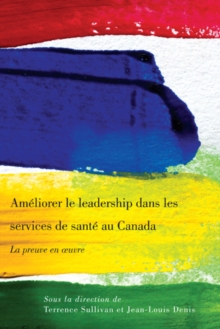 Ameliorer le leadership dans les services de sante au Canada : La preuve en oeuvre
Paperback / softback
Description
Building Better Health Care Leadership for Canada explains the development and implementation of the Executive Training in Research Application (EXTRA) program.
Managed and funded by the Canadian Health Services Research Foundation in partnership with the Canadian Medical Association, the Canadian Nursing Association, and the Canadian College of Health Care executives, EXTRA is a two-year national fellowship program that uses the principles of adult learning theory as well as practical projects to educate senior health care leaders in making more consistent use of research evidence in their management roles.
Fellows apply the theory learned in residency sessions and educational activities to projects within their home organizations. The authors identify the imperative for better use of evidence, outline the core elements of the curriculum, and capture the real-world experience of regional leaders and fellows involved in making specific changes informed by research-based evidence within their organization. Contributors include Jean-Louis Denis (Ecole nationale d'administration publique), Terrence Sullivan (Cancer Care Ontario), Owen Adams (Canadian Medical Association), Malcolm Anderson (Queen's University), Lynda Atack, Robert Bell (University Health Network), Sam G Campbell (Queen Elizabeth II Health Sciences Centre), Sylvie Cantin (Regie regionale de la sante et des services sociaux de la Monteregie), Ward Flemons (Calgary Health Region), Dorothy Forbes, J.
Sonja Glass (Grey Bruce Health Services), Paula Goering (Centre for Addiction & Mental Health, Toronto), Karen Golden-Biddle (Boston University School of Management), Jeffrey S.
Hoch (University of Toronto), Paul Lamarche (Universite de Montreal), Ann Langley (Ecole des hautes etudes commerciales), John N.
Lavis (McMaster University), Jonathan Lomas (Canadian Health Services Research Foundation), Margo Orchard (Ministry of Health and Long Term Care, Ontario), Raynald Pineault (University of Montreal), Brian D.
Postl (Winnipeg Regional Health Authority), Christine Power (Capital District Health Authority, Halifax), Trish Reay (University of Alberta), Jean Rochon (National Public Health Institute of Quebec), Denis A.
Roy (Agence de la sante et des services sociaux de la Monteregie Longueuil), Andrea Seymour (Government of New Brunswick), Samuel B.
Sheps (University of British Columbia), Micheline Ste-Marie (McGill University Health Centre), Nina Stipich (Canadian Health Services Research Foundation), David Streiner (Baycrest Centre for Geriatric Care, Toronto), Carl Taillon (Centre hospitalier universitaire de Quebec), and Muriah Umoquit (Cancer Care Ontario).
Information
Format: Paperback / softback
Pages: 256 pages
Publisher: McGill-Queen's University Press
Publication Date: 22/08/2012
Category: Business & management
ISBN: 9780773540255
Free Home Delivery
on all orders
Pick up orders
from local bookshops