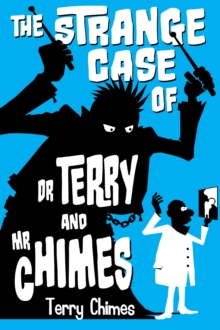 The Strange Case of Dr Terry and Mr Chimes
Paperback
Description
The Strange Case of Dr. Terry and Mr. Chimes is an autobiography with a difference. It covers the life of a man who appears to many to be a dual personality.
Surely the crazy muso bashing the drums in a succession of punk and heavy metal rock bands couldn't possibly be the same person as the one offering kind words of wisdom and compassion to the sick?
Yet that is the unusual transition made by the author.
The book includes dozens of true stories ranging from wild antics on the road with a touring rock band to the challenges of carving out an entirely new career.
Information
Format: Paperback
Pages: 228 pages
Publisher: Wilkinson Publishing
Publication Date: 01/03/2014
Category: Punk, New Wave & Indie
ISBN: 9781922178244
Free Home Delivery
on all orders
Pick up orders
from local bookshops
Reviews
Showing 1 - 3 of 3 reviews.
Review by Elainedav
16/06/2015
I love music and I'm a big fan of chiropractic treatment, so when I read about this book, I was intrigued! I was never particularly a fan of The Clash, although I am familiar with their biggest hit records, but you don't need to be to read this book. For me, the biggest interest was why someone, with success in the music business, would make such a significant career change. All is explained! Terry Chimes writes in a very nice, conversational style. To me, the chiropractic stories were as interesting as the rock star stories and I was hooked all the way through. This book is a great read for anyone interested in the music business, career changes, self motivation, inspiration etc etc.
Review by LyzzyBee
16/06/2015
Terry Chimes was the original drummer in The Clash and rejoined the band part-way through their career, as well as working with other rock bands until he decided to change career and become a chiropractor. I thought that this book looked very interesting from a music and career-change perspective, but I was, I'm afraid, sadly disappointed.It's very … pedestrian. He manages to make life as a rock drummer sound really boring, and the business wisdom that has been praised in other reviews already published consists of truisms and exercised in stating the obvious. Be reliable and things will be better for you. There is no limit except that set by your mind. All that sort of stuff. Although he thanks an editor in the acknowledgements, he must have ignored their suggestions, as the prose is flat, full of dangling identifiers and non sequiturs, and littered with errors. I was really pretty disappointed with this, and was glad I didn't pay for it.Re the editing issues, I know it's a pre-publication copy but it seems to have been out there for a while, perhaps in print, already, judging by the number of reviews.
Review by terrylynn
16/06/2015
This book was given to me for an early review The book was not for me as it is told to an audience that cares about hard rock...not for me. I didn't know most of the names he referred to in his "clash" days. He leaves this part of his life and becomes a chiropractor which I found a little more interesting.