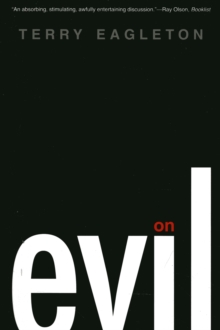 Description
In this witty, accessible study, the prominent Marxist thinker Terry Eagleton launches a surprising defense of the reality of evil, drawing on literary, theological, and psychoanalytic sources to suggest that evil, no mere medieval artifact, is a real phenomenon with palpable force in our contemporary world. In a book that ranges from St. Augustine to alcoholism, Thomas Aquinas to Thomas Mann, Shakespeare to the Holocaust, Eagleton investigates the frightful plight of those doomed souls who apparently destroy for no reason. In the process, he poses a set of intriguing questions. Is evil really a kind of nothingness? Why should it appear so glamorous and seductive? Why does goodness seem so boring? Is it really possible for human beings to delight in destruction for no reason at all?
Free Home Delivery
on all orders
Pick up orders
from local bookshops
Reviews
Showing 1 - 2 of 2 reviews.
Review by haebitchan
16/06/2015
I'll concede to the previous author's comment on how the fascination of the introduction quickly died off from its resplendence as the pages went on. Or to be precise, the author's invocation of motley works of literature to enter into a discussion on evil ultimately confused me into understanding what was exactly the point of this book. But it should be mentioned that on its back cover, its back cover precisely inscribed with these words: "Philosophy / Literature," so please don't make the same mistake as the previous critic and buy books without knowing which genre they belong to. But notwithstanding the equivocalness of the author's intent, the ideas on evil he broaches are sharp and insightful, many concepts which I found new to me. A notable one is his explanation of how evil has an affinity for nothingness, since a vacuity of meaning, purpose, and rationality resembles perfection, since it is independent from the laws of causality and therefore aging time. I've truncated and oversimplified his line of reasoning, but the fascination still remains.Overall, I found this book very informative (not as humorous as people have thought to be), and after reading the novel, I've come to realize that his eliciting of several works of literature is to perhaps to show the different faces and perspectives of evil, and that its visage portrayed by Christianity is one of many viewpoints for human audience. By showcasing numerous ways to understand evil, Eagleton wants to do what Nietzsche accomplishes in many of his writing: destroying security over the little knowledge we thought we possess.
I found this very slow moving to begin with, but was drawn in the further I got into the book. It's an interesting look at the concept of evil, Eagleton using religion, literature and historical events to illustrate ideas that have shaped Western perceptions of eeeeeevil (because hello not everyone is burdened by original sin - some of us get to be totally unoriginal about the whole thing) and how they're manifested in works like <i>Paradise Lost</I> or visible in the acts of the Nazis. I like that it left me pondering exactly what this thing called 'evil' is and whether human wickedness as presented by Eagleton is a different and far worse thing. Yeah... I wouldn't say I enjoyed this, but it certainly provided food for thought. A big apple basket of thought in fact.