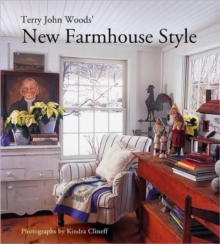 Terry John Woods' New Farmhouse Style
Hardback
Description
Terry John Woods and his incredible Needham House, nestled in Vermont's Green Mountains, inspire readers to create a farmhouse style in their own home using antiques, folk art and everyday objects.
Needham House, an 1820s farmhouse nestled in Vermont's Green Mountains, is artist Terry John Woods' beloved home - and it's the canvas on which he works out his design ideas.
Here, Woods has reinvented his family homestead while adding visual and tactile pleasure to every part of the house and garden.
His eclectic, mix-and-match sensibility is unafraid to combine the finely polished with the charmingly weathered, the treasured heirloom with the just-discovered flea market find.
It's an approach that invites you to use your own interpretation of light, colour, texture and form to assemble an environment that showcases your personal style.
Apartment dwellers, suburban homeowners and those lucky enough to possess their own rural retreats will be equally inspired by Woods' farmhouse and by his reflections on a way of living that embraces the moment, comforts the body and kindles the spirit.