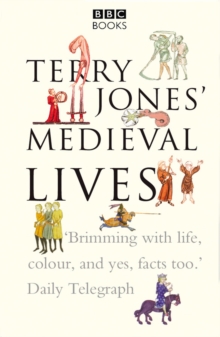 Terry Jones' Medieval Lives
Paperback
Description
Was medieval England full of knights on horseback rescuing fainting damsels in distress?
Were the Middle Ages mired in superstition and ignorance?
Why does nobody ever mention King Louis the First and Last? And, of course, those key questions: which monks were forbidden the delights of donning underpants...and did outlaws never wear trousers?
Terry Jones and Alan Ereira are your guides to this most misrepresented and misunderstood period, and they point you to things that will surprise and provoke.
Did you know, for example, that medieval people didn't think the world was flat?
That was a total fabrication by an American journalist in the 19th century.
Did you know that they didn't burn witches in the Middle Ages?
That was a refinement of the so-called Renaissance. In fact, medieval kings weren't necessarily merciless tyrants, and peasants entertained at home using French pottery and fine wine.
Terry Jones' Medieval Lives reveals Medieval Britain as you have never seen it before - a vibrant society teeming with individuality, intrigue and innovation.
Information
Format: Paperback
Pages: 224 pages
Publisher: Ebury Publishing
Publication Date: 01/05/2005
Category: General & world history
ISBN: 9780563522751
Free Home Delivery
on all orders
Pick up orders
from local bookshops
Reviews
Showing 1 - 4 of 4 reviews.
Review by Nickelini
16/06/2015
Some people have the most spectacular careers. Terry Jones has had two: star of Monty Python's Flying Circus and medieval scholar. Terry Jones' Medieval Lives is the second book of his I've had the pleasure to read (The other was the physically beautiful Who Murdered Chaucer?). This is what I think they call "popular history," in that it's written to entertain a lay audience and not for academic study. That does not mean it's simplistic, and nor is it written for a beginner of medieval history. This is good stuff, lots of interesting--occasionally funny--information presented in a readable format. I particularly liked his medieval myth-busting of silly and erroneous things we've been led to believe about people in the middle ages (things like they believed the world was flat.)I didn't realize it when I picked it up, but the book is a companion to a BBC series of the same name. There are a few clips on YouTube, and they look even better than the book. I will definitely order the series on DVD.
Review by meggyweg
16/06/2015
I've seen the Medieval Lives TV series and this is just as good, though each contains information not found in the other. This is serious history, but Terry Jones, being Terry Jones, is able to insert plenty of humor. Highly recommended for high school and college classrooms, and for anyone interested in medieval history.
Review by Shuffy2
16/06/2015
Monty Python's Terry Jones is not just funny--- he's actually smart too! ;) Terry Jones and Alan Ereira do a great job of presenting "Medieval Lives" in layman's terms while at the same time being informative and entertaining. Each chapter is broken down by a particular social order, whose viewpoint offers crucial insights into life during the Medieval period. It is informative and funny, a perfect way to impart information to a 21st century audience! It is perfect for actual historians or even just fans of 'Monty Python and the Holy Grail', myself falling under both categories, I would lean more towards people who have an affinity toward the time period. It is history with a fun twist!
Review by TheInvernessie
16/06/2015
It was alright, just alright. I expected it to be a much easier read to be honest. I viewed the programme on this book prior to reading it, and I'm very glad I did. The show was far better than the book. It felt too choppy.