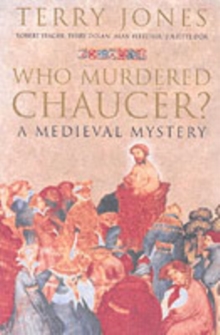 Who Murdered Chaucer? : A Medieval Mystery
Hardback
Description
In this work of historical speculation Terry Jones investigates the mystery surrounding the death of Geoffrey Chaucer over 600 years ago.
A diplomat and brother-in-law to John of Gaunt - one of the most powerful men in the kingdom - Chaucer was celebrated as his country's finest living poet, rhetorician and scholar: the pre-eminent intellectual of his time. And yet nothing is known of his death. In 1400 his name simply disappears from the record. We don't know how he died, where or when; there is no official confirmtion of his death and no chronicle mentions it; no notice of his funeral or burial.
He left no will and there's nothing to tell us what happened to his estate.
He didn't even leave any manuscripts. How could this be? What if he was murdered? What if he and his writings had become politically inconvenient in the seismic social shift that occurred with the overthrow of the liberal Richard II by the reactionary, oppressive regime of Henry IV.
Would the dogs of suppression, unleased by Archbishop Arundel, have been snapping at the heels of a dangerous poet?Terry Jones' hypothesis is the introduction to a reading of Chaucer's writings as evidence that might be held against him, interwoven with a portrait of one of the most turbulent periods in English history, its politics and its personalities.
Information
Format: Hardback
Pages: 352 pages, 120 colour and b&w illustrations
Publisher: Methuen Publishing Ltd
Publication Date: 01/01/2003
ISBN: 9780413759108
Free Home Delivery
on all orders
Pick up orders
from local bookshops
Reviews
Showing 1 - 1 of 1 reviews.
Review by shanaqui
16/06/2015
I didn't expect to enjoy this as much as I did. I thought I might find it amusing -- weird, that someone would think to try and figure out who murdered someone who common knowledge doesn't peg as being murdered, about which we have no forensic evidence. (So not like, say, King Tutankhamen, where at least there's potential forensic evidence to go on.) But this isn't like that: Terry Jones et al freely admit that there is no proof that someone did murder Chaucer: what they did was put forward a convincing argument as to why certain people would have wanted Chaucer silenced, and the evidence they <I>can</I> dig up which suggests it's possible he was, including censorship of his work, possible veiled references by other poets of the period, the lack of a will, and of course the abrupt ending of his life. All of these things have other explanations, which the authors admit, but taken all together, the idea isn't so outlandish.It isn't an exercise like trying to discover who murdered someone because of fractures on their skull that could, barely conceivably, point to blunt-force trauma as a cause of death. It's a much more literary affair that I recognise -- being a historicist, this is what I do, for texts, except Terry Jones et al are reading <I>history</I> as a text. They look for motive, they identify the principle characters. Just as I might want to look at why Shakespeare endorsed the Tudor myth, they look at the politics of the time and apply it to Chaucer's writing, and that of his contemporaries.My main criticism is that I was a little turned off by the sheer level of detail, much of it not relating to Chaucer. It's certainly an education about the whole situation in that period, though. I hadn't even really thought about the fact that Chaucer lived during the transfer of power from Richard II to Henry IV. Now I can't stop thinking about it.