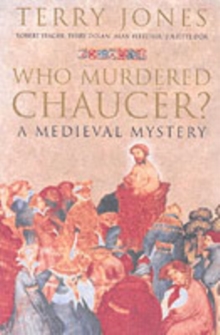 Who Murdered Chaucer? : A Medieval Mystery
Hardback
Description
In this work of historical speculation Terry Jones investigates the mystery surrounding the death of Geoffrey Chaucer over 600 years ago.
A diplomat and brother-in-law to John of Gaunt - one of the most powerful men in the kingdom - Chaucer was celebrated as his country's finest living poet, rhetorician and scholar: the pre-eminent intellectual of his time. And yet nothing is known of his death. In 1400 his name simply disappears from the record. We don't know how he died, where or when; there is no official confirmtion of his death and no chronicle mentions it; no notice of his funeral or burial.
He left no will and there's nothing to tell us what happened to his estate.
He didn't even leave any manuscripts. How could this be? What if he was murdered? What if he and his writings had become politically inconvenient in the seismic social shift that occurred with the overthrow of the liberal Richard II by the reactionary, oppressive regime of Henry IV.
Would the dogs of suppression, unleased by Archbishop Arundel, have been snapping at the heels of a dangerous poet?Terry Jones' hypothesis is the introduction to a reading of Chaucer's writings as evidence that might be held against him, interwoven with a portrait of one of the most turbulent periods in English history, its politics and its personalities.
Information
Format: Hardback
Pages: 352 pages, 120 colour and b&w illustrations
Publisher: Methuen Publishing Ltd
Publication Date: 23/10/2003
ISBN: 9780413759108
Free Home Delivery
on all orders
Pick up orders
from local bookshops