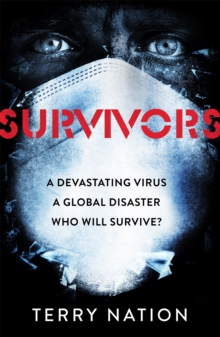 Description
Survivors of a global plague battle for life on an empty planet.
A terrifying vision of a post-apocalyptic world...A virus has wiped out 95 per cent of the world's population in just a few weeks, leaving the remaining 5 per cent to stay alive in a world devoid of the most basic amenities - electricity, transport and medicine.
The few survivors of the human race are forced to fall back on the most primitive skills in order to live and re-establish some semblance of law and order.Abby Grant, widowed by the plague, moves through this new dark age with determination, sustained by hope that her son, who fled his boarding school at the onset, has survived.
She knows she must relearn the skills on which civilisation was built.
With others, she founds a commune and the group return to the soil.
But marauding bands threaten their existence. For Abby, there's a chance for a new life and love when she encounters James Garland, the fourteenth Earl of Woodhouse, who is engaged in a desperate fight to save his ancestral home.
But more important, she must find her son.
Information
Format: Paperback
Pages: 256 pages
Publisher: Orion Publishing Co
Publication Date: 27/11/2008
Category: Thriller / suspense
ISBN: 9781409102649
Free Home Delivery
on all orders
Pick up orders
from local bookshops
Reviews
Showing 1 - 3 of 3 reviews.
Review by wulf
16/06/2015
I was not overly impressed with this tale of survivors in the aftermath of a global disease disaster. The characters are not given the chance to be particularly engaging, there is a lot of driving around considering how quickly the roads are described as deteriorating and the twist at the end deserved to be given more space than just being a final, unpleasant shock.For aftermath-writing done properly, see Earth Abides by George Stewart.
Review by cmwilson101
16/06/2015
Survivors is an engrossing look at post-plague Britain, where only a handful of survivors have been left to eke out an existence. The characters are appealing, despite the rather matter of fact tone of the narrator. I wanted the characters to survive, and found the details of their lives fascinating. I have to confess that I watched, and greatly enjoyed, both of the BBC's Survivor series, the 1970's and 2010 adaptation; watching the series undoubtedly did help make the characters more accessible to me. A good and worthwhile read.
Review by autumnturner76
16/06/2015
Enjoyed this! If you like apocalyptic conspiracy theory type plots, this is one of the best.<br/><br/><s>So far, enjoying this!</s>