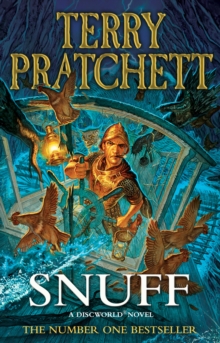 Snuff : (Discworld Novel 39)
Paperback
Description
It is a truth universally acknowledged that a policeman taking a holiday would barely have had time to open his suitcase before he finds his first corpse. Commander Sam Vimes of the Ankh-Morpork City Watch is on holiday in the pleasant and innocent countryside, but not for him a mere body in the wardrobe.
There are many, many bodies - and an ancient crime more terrible than murder. He is out of his jurisdiction, out of his depth, out of bacon sandwiches, occasionally snookered and out of his mind.
But never out of guile. Where there is a crime there must be a finding, there must be a chase and there must be a punishment. They say that in the end all sins are forgiven. But not quite all... Winner of the Bollinger Everyman Wodehouse Prize for Comic Fiction
Information
Format: Paperback
Pages: 512 pages
Publisher: Transworld Publishers Ltd
Publication Date: 01/06/2012
Category: Fantasy
ISBN: 9780552166751
Other Formats
Paperback from £7.65
EPUB from £4.99
CD-Audio from £12.65
Free Home Delivery
on all orders
Pick up orders
from local bookshops
Reviews
Showing 1 - 3 of 3 reviews.
Review by CarltonC
16/06/2015
I enjoyed this tales of Sir Sam Vimes going to the country (his wife's stately home), naturally finding crimes to pursue and then chasing the villains (in cow powered river boats).You will appreciate this novel much more if you have already read many of the Discworld novels, as part of the enjoyment comes from seeing well loved characters in new situations. But the story is also fresh as it does move Sam, Commander of the Ankh Morpork City Watch, out of his familiar city setting and into a situation when he can act differently.The novel is trying to tell several moral truths, and dos so well, but not in a nuanced fashion but in a rather heavy handed way. This aspect is disappointing and spoils one enjoyment.The story has more character and situation humour than earlier books, but this is good, if not as funny overall.However, I finished the novel feeling that the story itself was not as much fun as previous books and that a lot of my enjoyment came from revisiting familiar characters.
Review by Roobee1
16/06/2015
I was very much looking forward to this, and as a long-time Vimes groupie, enjoyed it but missed the sparkle from other Discworld books. The title suggests a darker subject than usual, perhaps, but I still miss the lightness of touch. The literary nods are all there, and the story holds, and there are enjoyable characters. (I also have to award a prize for the glorious name of Bewilderforce Gumption!)
Review by Helenliz
16/06/2015
 Poor old Sam Vimes, he's being put upon again. Sybil has dragged him and Young Sam off the Ramkin Hall, their place in the country, for a holiday. As we all know, Sam doesn't "do" holidays. Sam, as a policeman, is never off duty, even if he is some distance from his jurisdiction. But he soon gets the idea that something not right is going on on/in/under his land and this raises his hackles. There's a sneaking suspicion that this is not entirely a co-incidence, his being on holiday in the country and sticking his nose into the rum goings on. As usual, Sam Vimes vanquishes the demons (his own and those around him) and does the right thing. The usual cast of supporting characters come along a little later in the story, but there's enough interest to keep this one bubbling along at a merry rate. If, as is the belief, Sir Terry is tidying up all his story lines then this one does leave Sam in a good place. It could all have ended a lot worse for Sam Vimes of the Night Watch.
Also in the Discworld Novels series | View all