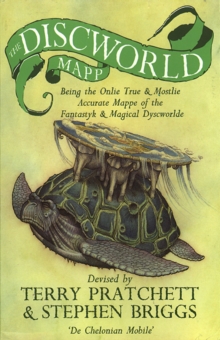 The Discworld Mapp
Paperback
Description
They said it couldn't be done. Well, it has been done, proving them wrong once again.
After years of research, cunningly contrived in as many minutes, the Discworld has its map.
It takes full account of the historic and much documented expeditions of the Discworld's feted (or at least fated) explorers: General Sir Roderick Purdeigh, Lars Larsnephew, Llamedos Jones, Lady Alice Venturi, Ponce da Quirm and, of course, Venter Borass.
Now travellers on this circular world can see it all: from Klatch to the Ramtops, from Cori Celesti to the Circle Sea, from Genua to Bhangbhangduc.
The great cities of Hunghung, Pseudopolis, Al Khali and, of course, Ankh-Morpork are placed with loving care upon this world which is carried through space by Great A'Tuin.
Information
Format: Paperback
Pages: 32 pages
Publisher: Transworld Publishers Ltd
Publication Date: 09/11/1995
Category: Fantasy
ISBN: 9780552143240
Free Home Delivery
on all orders
Pick up orders
from local bookshops
Reviews
Showing 1 - 3 of 3 reviews.
Review by Darla
16/06/2015
Yeah, this isn't really a book. It does have an ISBN, though, so I'm counting it.It's got some pretty funny stuff in it about the various explorers of the Discworld, and comments from Pratchett and Briggs about the making of the map, but it's not really a book.Great fun, though, and perfect for what it is. I'm thinking it'll be interesting to refer to next time I read a Discworld book.
Review by Kellswitch
16/06/2015
The map is absolutely gorgeous, the art and style match the Discworld feel perfectly and I love all the artistic details and flourishes on the side that make it feel like a realworld ancient map. There Be Dragons indeed.I enjoyed the text at the beginning, the short introduction from Sir Pratchett himself to a brief and yet illuminating description of the challenges of creating a work such as this by Steven Briggs and the short biographies of famous Discworld Explorers were hilarious and made me want to read books based just on them.This is probably more for the serious Terry Pratchett fan and collector than for the more casual reader but I find I really love the maps and enjoy the depth they bring to the Discworld.
Review by pussreboots
16/06/2015
I think my husband would rate this atlas a 5 but he's not a LibraryThing member. His response was "A map of Discworld? AWESOME!"I'll have to go with cute, rather than awesome. I wish there was a little more to it. I'm a map and atlas junkie and this one just doesn't follow through enough for me. It's still a must for Pratchett fans, though.