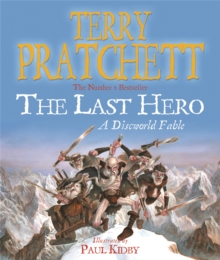 Description
A short but perfectly formed complete Discworld novel, fully illustrated in lavish colour throughout, THE LAST HERO is an essential part of any Discworld collection.It stars the legendary Cohen the Barbarian, a legend in his own lifetime.
Cohen can remember when a hero didn't have to worry about fences and lawyers and civilisation, and when people didn't tell you off for killing dragons.
But he can't always remember, these days, where he put his teeth...So now, with his ancient sword and his new walking stick and his old friends - and they're very old friends - Cohen the Barbarian is going on one final quest.
He's going to climb the highest mountain in the Discworld and meet his gods.
The last hero in the world is going to return what the first hero stole.
With a vengeance.That'll mean the end of the world, if no one stops him in time.
Information
Format: Paperback
Pages: 176 pages
Publisher: Orion Publishing Co
Publication Date: 13/09/2007
Category: Fantasy
ISBN: 9780575081963
Free Home Delivery
on all orders
Pick up orders
from local bookshops
Reviews
Showing 1 - 5 of 8 reviews.
Previous | Next
Review by TPauSilver
27/08/2015
I really enjoyed this book. I think it makes a good argument in it's existence for physical books over e-books in that it is a beautiful item. The illustrations are gorgeous and the entire book has a nice feel to it. As a fable, it's shorter than a standard novel and it leans quite heavily on you already being familiar with the characters and their history instead of establishing them again so that would be a down-side if you read this without the Discworld mythology behind it is a lovely book. Funny, thoughful, willing to make fun of itself and the world. A lovely, quick read.
Review by pauliharman
16/06/2015
Even by Pratchett standards this is an absolutely superb book. The writing is Terry on top form, witty and insightful as ever, and the novella is beautifully illustrated by Paul Kidby. 6 stars.
Review by Caspettee
16/06/2015
The Last Hero: A Discworld Fable is a story with in a story. For those familiar with the Discworld universe this is the story of Cohen the Barbarian and the Silver Horde who has decided it is the time for his last hurrah and while he is at it he is going to stick it to the gods.This will naturally destroy the Discworld as we know it.Leanorad De Quirm, Captain Carrot and Rincewind are recruited to save Discworld from its doom with the assistance of the Librarian and set of on an equally fantastical journey of their own to the moon (you will just have to read the story to find out how that figures into saving the world).As always Pratchett has written a well rounded and humorous story. The writing style is similar to the Colour of Magic in that each "chapter" is short snippets, this might annoy some but I didnt mind this is not one of Pratchetts novels after all. Also Pratchett I think really enjoyed writing this as the whole book was just great fun.Paul Kidby did an amazing job illustrating the fable and his artwork through the book is to die for. The Discworld just leaps to life from the pages.This book had nearly all my favorite characters (the only ones not in here are more of the watch and the witches) and any book with Cohen & the Silver Horde is pretty much guaranteed a top place of my favorite Discworld books. I really enjoyed the Captain Carrot and Rincewind dynamic and hope TP joins the duo up again at some stage.I just enjoyed this book so much I could not review it properly with out rambling and giving the whole plot away.
Review by Zommbie1
16/06/2015
Please excuse me while I go and sit in a corner and marvel over the pictures in this book for a while.Thank you!They are absolutely amazing. Pratchett is Pratchett and I have much love for him and the illustrations in this book just makes the book even better. Pratchett's writing is flawless as usual. All the normal characters appear with a cameo by Death pondering Schrodinger's cat but he ultimately dismisses it because "I DON'T HOLD WITH CRUELTY TO CATS" (pg69). As usual Pratchett's book connects with something in our world (or several somethings), in this case the hero myth. In stories heroes never grow old and die. Yet a tenant of the hero myth seems to be that they are invincible. So what does a hero that has grown old do? Why he has to go down in a blaze of glory, that is what heroes do. This is the premise of this story. Throw in some Leonardo da Vinci, pardon me, Leonard da Quirm, the brilliant but slightly spaced inventor/painter and you have a story that is supremely recognizable yet very very fresh. This is a fairly short book (175 pages) and I read it in one day. For anyone who is looking for a quick Pratchett fix this is a great read. I am however not sure that this is a good first book. It skates over some things that the longer books explain in greater detail such as why the wizards are the way they are. I'm glad I had a passing understanding of the world before I read it. And as always with Pratchett's work it helps to be well read in general as much of his wit and irony would be lost on those who do not know our world. Great book!
Review by Aldrea_Alien
16/06/2015
Simple plot to this one. The last hero wants to return to the gods what the first hero stole. In Discworld, that means fire, which would mean the end of the world. So naturally, someone's got to stop them. Of course, it's not that simple (whenever is it?).But this story incorporates a number of my favourite characters - Cohen the Barbarian, Rincewind, Carrot Ironsfounderson & Leonard da Quirm to name a few - with the last three ending up on the moon. I think I probably spent an equal amount of time staring at the pictures as I did reading. They are exquisite. If you have not seen a copy of this, you simply must. My only lament is that the story was too short and I'd have liked a few more of the details at the end filled out.