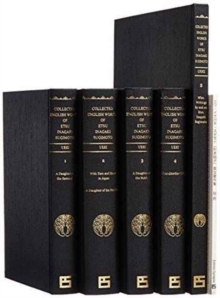 Collected English Works of Etsu Inagaki Sugimoto (5-vol. ES set)
Hardback
Description
Published by Edition Synapse, Japan and distributed by Routledge outside of Japan. This is the very first collection of all the English works produced by an author renowned for her autobiographical novel A Daughter of the Samurai, which became a bestseller in pre-war America.
Etsu Inagaki Sugimoto was born 1874 in the province of Niigata in Japan and after attending a Methodist school in Tokyo, she moved to the USA for a pre-arranged marriage to a Japanese merchant in Cincinnati.
After her husband's death, she started writing about Japan in local newspapers and then in a series of articles for the magazine Asia.
A Daughter of Samurai, which was her first book and was based on the magazine series, was published by Doubleday, a leading US publisher.
The book became one of the publisher's biggest sellers and continued to be in print for many editions.
A British edition was produced, as were translations into most other major Western languages.
The book's influence has been profound. For example, Ruth Benedict's The Chrysanthemum and the Sword, one the most widely read books on Japan in the West is deeply indebted to Sugimoto's novel.
Sugimoto later lived in New York and taught Japanese language and culture at Columbia University. In addition to her first novel, she published three other novels and a children's book, all in English.
Even in the anti-Japanese atmosphere of pre-war America and Britain, they were favourably reviewed on the both sides of the Atlantic.
Reviews of her work appeared in the New York Times, and the Times Literary Supplement. This Collected English Works of Etsu Inagaki Sugimoto includes all of those books as facsimile reprints of first editions, together with colour plates and illustrations.
The collection also gathers her newspaper and magazine articles.
Selected reviews of her novels are also included. ... Neither Americans nor Japanese, they felt alien in both countries, winning a sort of spiritual hybridism which is one of the tragedies of abi-racial background.
The story takes root from this tragedy and serves as a commentary upon the life of both nations.
In every sense A Daughter of the Samurai is an attempt to explain the life of the Samurai to the American people. "Unless the red barbarians and the children of the gods" she writes, "learn each other's hearts the ships may sail and sail, but the two lands will never be nearer." At a time when a wholesome piece of American legislation was marred with ill manners toward the proud and sensitive nation of Japan and when American jin goes invoke a Yellow Peril analogous to Japan's White Peril, such a book is useful and honorable.
In unveiling the reticences of a Japanese heart, Mme.
Sugimoto has deserved well not only of her caste and of her nation, but also of the many well-bred people in this land who desire a sympathetic understanding of the two peoples. --- from the review of A Daughter of the Samurai in The New York Times, January 10, 1926
Information
Format: Hardback
Pages: 2700 pages
Publisher: Editon Synapse
Publication Date: 15/03/2014
Category: Humamities
ISBN: 9784861661587
Free Home Delivery
on all orders
Pick up orders
from local bookshops