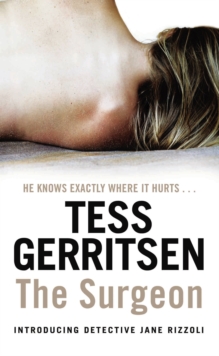 Description
In Boston, there's a killer on the loose. A killer who targets lone women, who breaks into their apartments and performs terrifying ritualistic acts of torture on them before finishing them off.
His surgical skills lead police to suspect he is a physician - a physician who, instead of saving lives, takes them.
But as homicide detective Thomas Moore and his partner Jane Rizzoli begin their investigation, they make a startling discovery.
Closely linked to these killings is Catherine Cordell, a beautiful medic with a mysterious past.
Two years ago she was subjected to a horrifying rape and attempted murder but she shot her attacker dead.
Now she is being targeted by the new killer who seems to know all about her past, her work, and where she lives.
The man she believes she killed seems to be stalking her once again, and this time he knows exactly where to find her...
Information
Format: Paperback
Pages: 416 pages
Publisher: Transworld Publishers Ltd
Publication Date: 01/12/2009
Category: Thriller / suspense
ISBN: 9780553824551
Free Home Delivery
on all orders
Pick up orders
from local bookshops
Reviews
Showing 1 - 3 of 3 reviews.
Review by Elphaba71
16/06/2015
A great page turner, keeps you guessing till the end.
Review by CookieDemon
16/06/2015
I've just started watching the television adaptation `Rizzoli and Isles' on Alibi and wanted to see if the books were as gripping as the series, starting with book one of the set. Though there are some vague similarities, I think this book explored the characters with greater depth and much less humour than the show and it was a really absorbing story. This is also the first time I've read a Tess Gerritsen novel and now I'm looking forward to trying the rest. Her writing is brilliant and had me hooked from the first sentence.The theme of the novel itself is actually very dark- a serial killer is on the loose in Boston, one who takes pleasure in torturing women and then finishing them off in a very gruesome way. Homicide Detectives Thomas Moore and Jane Rizzoli begin work on the case and realise it mirrors a very similar attack on a woman in Savannah, Georgia, two years previously, only in that case the woman survived, shooting her attacker dead. The similarities in the two cases cannot merely be coincidence, can they?With excellent character development and a fast-paced plot, I would recommend this if you like quick moving thrillers that lean just a little bit towards the dark side. I would caution however that this book is certainly not for the feint-hearted. It is not shy in holding back on particularly grim details of both sexual assaults and aspects of surgery, which did leave me feeling a bit queasy in places. However, it does make the story all the more believable and really pulled me into the plot. Because I have also been to Boston before it was all too easy to imagine someone sinister lurking in the city- and I was of course envisioning settings from the TV show as well.Though this is indeed different from the TV show (Rizzoli isn't the most likeable of characters here and Isles has yet to make an appearance), I certainly wasn't disappointed in any way and Rizzoli really intrigues me- so I will be curious to read `the book' version of Isles. I think this is definitely a book you can read in one setting and then hurry onto the rest! *This review also appears on Amazon.co.uk*
Review by DaffiMere
27/08/2015
I quite enjoyed this book. Thiller/Crime books are not really high on my to read stack/list of books to read, but I found this book enjoyable. Even through this book is listed as the first book in the Rizzoli & Isles series, I would call 'The Surgeon' a prequel.If you like the TV Series of 'Rizzoli & Isles', you would like this series.This book was so enjoyable that I read it under 20 hours.